How to travel happily as a couple even if you have different likes – tips and tricks
Last Updated on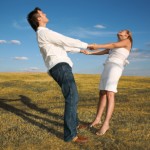 A couple – a family. But one likes the sea/ocean, the other the mountains; one likes vacations in which he or she can rest, sit on a chair in the sun – or take a bath in the pool while the other wants to explore and visit as much as possible; one likes to travel to big cities and run from one museum to another and see it all while the other prefers less traveled areas and towns. These are only several examples of travel preferences that can be encountered in a couple.
The idea of a vacation should be joy and happiness for all those going together. But how to mix different likes? How to make the best of a vacation even if the partners have different preferences? Here are some simple trips and tricks that can make you enjoy your travel!
Some would say that the perfect solution is to chose your partner from people that share your travel likes. That would be indeed an idea, but if that's not always possible, a couple can still travel happily even if have different preferences.
Try to alternate vacation types. Even if you afford one vacation per year you can still alternate: one year you can go somewhere on a sea and the next years somewhere in the mountains. One year you can take a tour, another year you can take a vacation in which both of you will relax. Alternating vacations is a solution for both to have vacations they like.
Take the decisions together – and make the plans together. Even if you go to the sea and your partner likes the mountain, involve the partner in deciding where to go, what tours to buy or what touristic objectives to visit. Involving the partner in the decision making process assures the happiness and shows that one is really interested in having a vacation both partners like.
Regardless of the vacation type, find activities you both enjoy. If you are somewhere in the mountains – and of course this is not the desired vacation by one partner – try to find activities you both enjoy – like walking, playing cards, going to clubs etc. Speak to your partner, find out what he or she would enjoy and mix preferences so that the vacation would be perfect for both of you!
Plan a little surprise. It's not all that hard! Go at the restaurant and ask for the desert to have written in cocoa for instance a message on the plate: I love you, You are my sunshine etc. You'll leave your partner breathless – especially if is the woman 😉 For a man, you can also find some interesting ideas: find an exhibition you know he'd like to visit and take him there without telling him where you go. There are many ideas one can come up with if you really know your partner and want to make him/her really enjoy the vacation.
Remember that you both should have fun and enjoy the vacation/trip. As simple and basic as it sounds, as complicated it seems to be for many people. Don't be selfish. Think of your partner also. Try to mix preferences, try to find things to do together!
Try to really enjoy yourself in a vacation on your partner's like. Yes, you are in a trip/vacation that is more liked by your partner than you. Don't try to ruin the experience. Try to enjoy each moment, try to really go with the flow. Appreciate each moment spent together and keep an open mind. You could really find out interesting things in a vacation! Try something new with pleasure!
Now, these are my advices, my tips and tricks for a perfect couple vacation when the partners have different likes.
Do you have any other tips to share?
Are your travel likes different than your partner's? How do you make the best of your vacations together?