Destinia started to accept bitcoins
It appears things are changing nowadays and bitcoins are used more and more. According to a press release I received today, the online travel agency, Destinia, with global headquarters in Madrid, Spain, is the first travel agency in the world to accept payments using bitcoins for both hotel accommodation and airline tickets. Destinia is also now the largest e-commerce company in Europe to accept Bitcoins.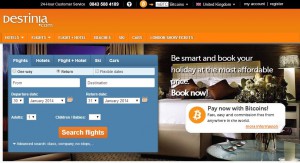 Amuda Goueli, Destinia's CEO, expressed his total trust in the bitcoin: "This payment method is an innovative and secure model that benefits companies and consumers. They save on banking costs, resulting in that we can offer them a cheaper service."
"It is just as revolutionary as the Internet itself was ten years ago", assured the company's CEO.
The payment process is secure and is identical to any other payment method. Customers can purchase Destinia's services through this virtual currency in 25 languages from virtually anywhere on the globe.
What do you think about this switch and payment method offered by Destinia? Do you have bitcoins? If you have, would you use them to pay for travel services?