New Zealand Budget Travel Tips: How to Live, Eat and Travel Cheaply
disclaimer: this post contains affiliate links, which means I may earn a small commission (at no extra cost for you). Read our Terms and conditions for more details.
New Zealand is an enchanting country that draws travellers to its shores in droves every year. But with a cost of living comparable to the UK, it isn't the cheapest place to go. Rest assured though, there are ways to cut down on the cost. Here are some top New Zealand budget travel tips.
New Zealand Budget Travel Tips
New Zealand has to be one of the best countries in the World for a first time traveller.
It's just prime travel territory, host to immense natural beauty, fascinating history, proud culture and amazingly friendly people. It's also pretty small, easy to navigate and get around, plus incredibly safe and well travelled.
But it isn't the cheapest place in the world.
In fact, the cost of living is comparable to that of other Westernised Countries; many of the activities travellers embark upon (extreme sports, guided tours, Great Walks etc) can be exceedingly high too.
Costs can quickly stack up if you aren't careful.
But where there's a will there's a way and budget travel is always possible. New Zealand is no exception and offers the budget traveller many money saving opportunities that are unique to the country's make-up.
Here are some tips for how to travel New Zealand on a budget.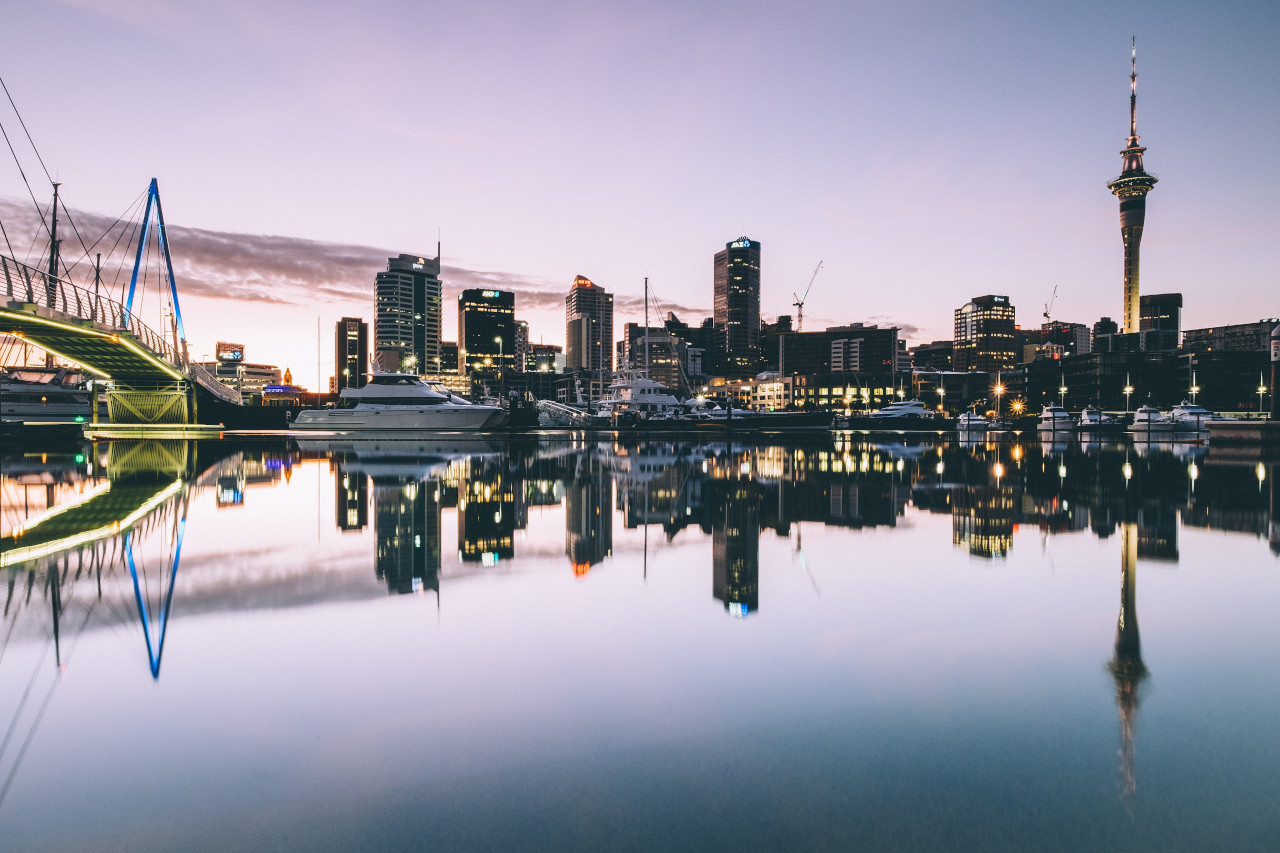 Food & Accommodation in New Zealand
Food and accommodation are usually two main expenses for travellers to consider. Both can be expensive in New Zealand, but there are also readily available ways to save. Here are a few:
Work for Accommodation
This is a popular way of saving money on accommodation among travellers around the world and there's ample opportunity to it in NZ.
Simply, you exchange a set amount of time (usually 2-3 hours) each day to help out around the hostel/guest house/hotel/campsite (or wherever else you happen to be staying) for a free place to stay.
Hostels in NZ can range from $20-50 NZD (New Zealand dollars). The upper end of that spectrum is pricey! If you're staying in hostels every single night, think how quickly that's going to add up!
So, this is a fantastic way to save money. And, where there are a huge number of places to stay in NZ (to cater for the burgeoning tourist/travel industry) there is a lot of opportunity to get involved.
It isn't glamorous work (you'll be doing the dirty work I'm afraid- think toilets and bed sheets) but it is worth it in terms of the amount of money you essentially earn back.
You'll usually be expected to stay for a minimum length of time (e.g. 2 weeks) and there can be lots of competition for one of these spots in peak season, which means you may not be able to start immediately.
So, enquire in advance. Consider your travel itinerary and where you fancy staying for longer and ring ahead of time to enquire. There's nothing worse than planning on working for accomm somewhere, only to find there are no places when you get there.
It's always worth enquiring about potential job opportunities in your accommodation too. Whether it's free in exchange for bed and board, or you even get paid, this is a great way to save and earn money in a place you fancy staying for that bit longer.
Equally, the rules in New Zealand are changing. These days, new laws are making it harder for hostels and the like to let people work for accomm. It's meant to protect travellers from being mistreated and taken advantage of (aka overworked).
You might find you actually have to get paid employment now. Here, you get a salary in exchange for work, which you use to pay for a discounted bed in the hostel.
Wwoof
Standing for 'World Wide Opportunities on Organic Farms', this is a similar concept to regular working for accommodation…but with a twist!
Essentially, you're doing the same thing (working for accommodation) but on a farm. Here's the definition from the wwoofing website:
'WWOOF is a worldwide movement linking volunteers with organic farmers and growers to promote cultural and educational experiences based on trust and non-monetary exchange, thereby helping to build a sustainable, global community.
As a volunteer (or WWOOFer as they're known) you will live alongside your host helping with daily tasks and experiencing life as a farmer.'
Essentially, farms around the world who wish to host a 'wwoofer' sign up to the site and you can then contact and apply for a position. It's a win-win. They get help on their farm, you get free bed and board.
All the benefits of work for accomm, plus you get to be part of a global initiative and contribute to a worthwhile project too.
You could also check out Workaway, which offers further wwoofing and work from accommodation opportunities. To contact hosts you'll need an account, which gives you access for an entire year.
Huts
If you're into getting outdoors then the hundreds of huts that line the thousands of walking tracks in New Zealand could be worth considering as a place to stay.
The huts are pretty basic and offer differing levels of 'glamour', positioned along walking routes to provide shelter for people wanting to rest up after a hike (check out these epic gifts for hikers!).
They're generally stop-overs on multi day walks and are commonly run by someone who stays there throughout the season, maintaining the building.
More often than not the huts are not free and prior booking is required.
Unfortunately for budget travellers this is almost always the case on well known walking routes. The the price can sometimes seem extortionate for what they are.
However, combining a passion for the outdoors with a relatively cheap 'bed' (a bunk with a shallow mattress and a fireplace for warmth) might seem worth it. Equally, on lesser known hikes the huts are regulated far less and by authorities.
The occasional free night in a hut is definitely possible, if slightly risky (you'll likely face a fine if you're caught).
You'll need your own cooking and sleeping equipment if you opt for the lesser known huts, and you're also likely to need a way to light a fire too- there's no point freezing to death just to save money!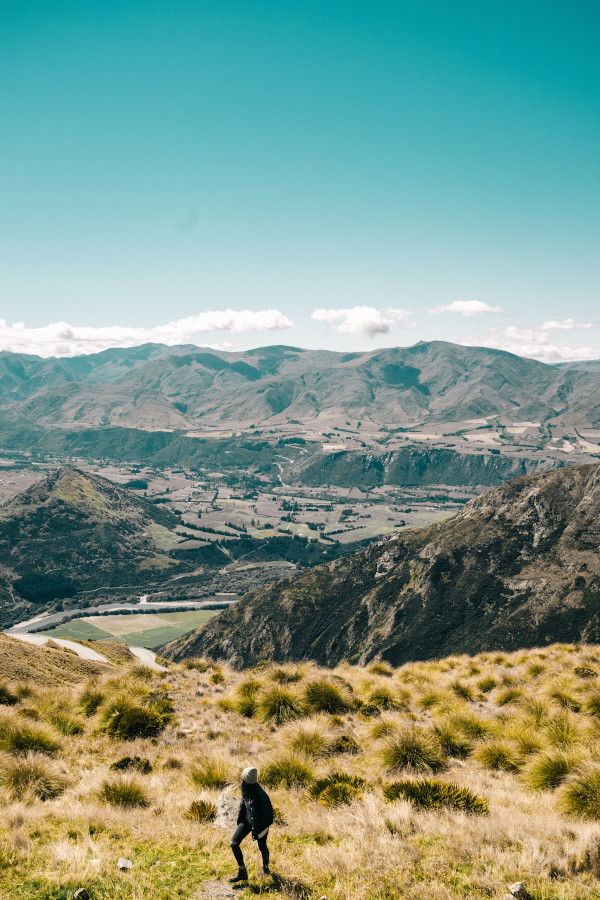 Free Camp
New Zealand outlawed free-camping a while back now, so technically speaking this way of saving money on accomm isn't allowed.
However, people do it…a lot.
And, where there's so much open space in NZ, in such wild terrain, it's usually possible to find somewhere out of sight to pitch up for the night. Even in towns and cities people find ways to do it!
Equally, there are some designated campsites around that don't charge a fee (though they may have an honesty box with a requested donation). These are worth looking out for too as they are often in amazing locations, next to rivers and lakes that take your breath away.
Just make sure you respect the land you're on and tidy up after yourself. Get rid of all your waste and rubbish appropriately and leave the site as you found it.
You'll obviously also need to consider the camping gear required- tent, waterproofs, cooking equipment, sleeping bag…
Free Food
Food's a little harder to acquire cheaply.
However, like we've seen, some hostels offer bed and board when working for accommodation.
Even better, some offer free meals as an incentive for staying there. Pay for a night and you'll often get free breakfast included and sometimes even lunch or dinner too.
This might put the price of a room up, and there's no promising that the food will be any good, but it's definitely a big plus when you're saving pennies.
Another bonus of staying in a hostel is that it allows you to actually cook. There's nothing quite like eating out to drain your funds.
Cook wherever possible, share meals with people and split costs accordingly.
Likewise, consider a different diet. Buying and eating less meat is a sure fire way to save money on food when travelling. It will also solve the problem of storing left overs from meaty meals, which will spoil before you know it when stuffed into the depths of a warm backpack!
Budget Activities in New Zealand
There are a million and one amazing things to do in New Zealand, but many of them unfortunately require a lot of money. There's plenty of opportunity for free stuff too though. Here are a few ideas:
Hiking in New Zealand
The diversity and beauty of the landscapes in NZ make it the perfect place for a good hike.
Not all the walking is free though. For instance, there are 9 Great Walks here that require money to undertake (for entry to the national park and staying in the designated camp sites/huts along the way).
However, you're never too far from a walking track that costs nothing at all. If you enjoy the outdoors this is prime time for you. Looking to hike on a budget? Here are the best backpacks under 100 bucks to enjoy!
Climbing in New Zealand
New Zealand also hosts many great climbing sites, which avid climbers flock to enjoy.
You'll need your own gear (or share with the people you meet), but otherwise you're free to climb. And it isn't all high ropes stuff either. One of the most famous sites is called Castle Hills, on the South Island, which is renowned for its bouldering.
Here, the landscape is littered with boulders, large and small, making for an incredibly sight to both witness and climb within. There's also a place to free camp not far from the main climbing area.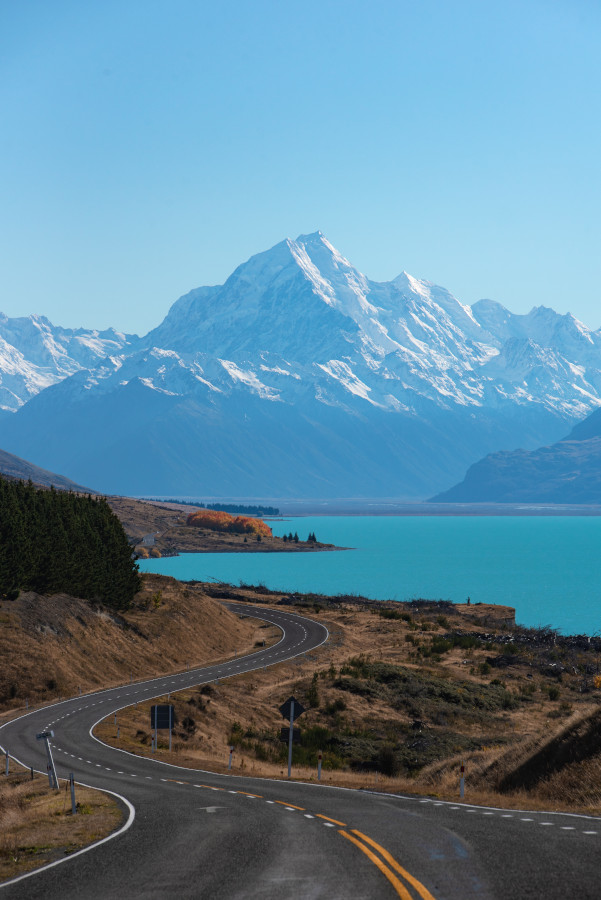 Gorges, Coasteering and Rock Hopping
Know the right place to go and there are fantastic opportunities for climbing and jumping from rocks into crystal clear deep pools of river water.
Some of the best I know of are in Wanaka, on the South Island, but there will be opportunities wherever you go.
These sites might not be in travel guides and are best found off the beaten track by speaking with locals and others with knowledge of the area. Hostel and guest house owners are always good people to ask.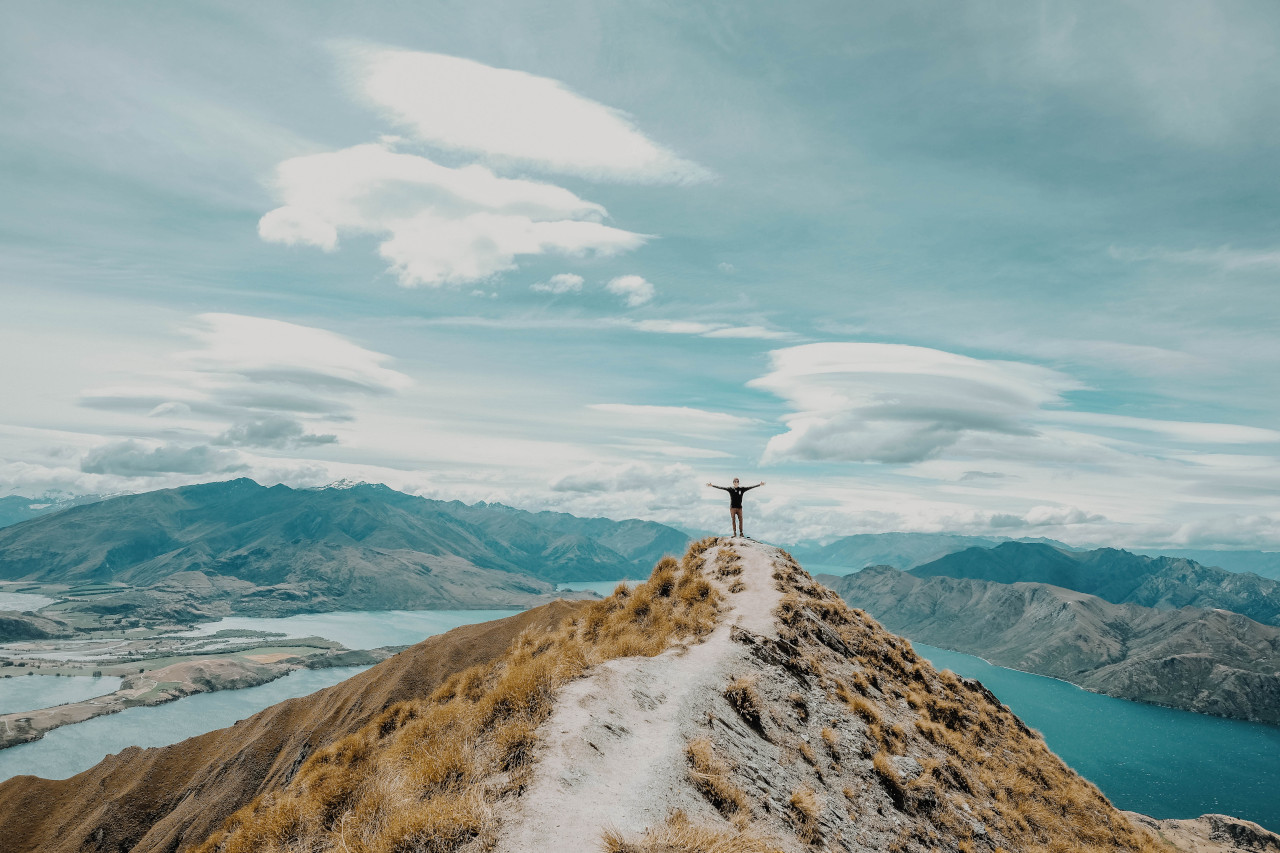 Swimming
Another outdoor pursuit that you can do almost anywhere in NZ and that'll cost you no money.
Whether it's the sea, river or lake, you're never far from water in NZ, so if you like to swim you're in the right place.
Natural Hot Springs
New Zealand is geothermal, which means there are countless opportunities to have a soak in a natural hot spring.
Some of these places have been commercialised so payment is customary, but there are many other free options too. Most will be listed in any decent guide book and the locals too will be able to tell you where to go.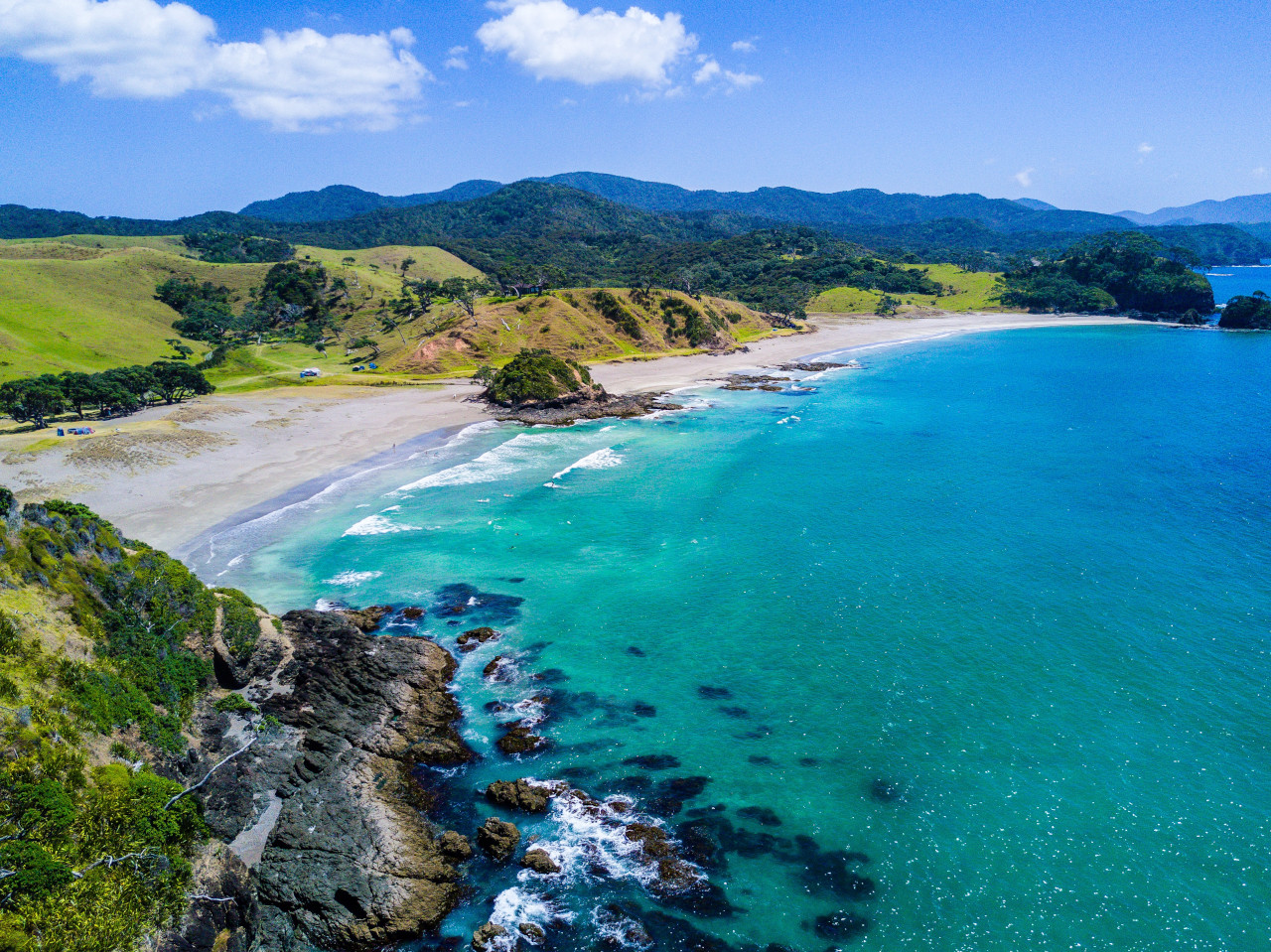 Hostel Fun and Games
Life is often what you make of it.
And, when you're in a hostel there are dozens of other people to meet and spend time with.
Depending on the hostel there's often great activities available, such as a swimming pool or pool table. This is a great way to meet people and get talking while filling time with a free activity.
The Paradiso, in Nelson (South Island), as a perfect example: there's a pool, sauna, volley ball court, table tennis table and even a bus to watch films in! It's a cool place with a lively atmosphere.
Transport
Again, transport can be a money killer for a budget traveller. However, there are plenty of ways to save money on getting around in New Zealand.
Buses
There are a couple of key bus lines in NZ, though Intercity is the most popular.
You can find discounted tickets if you book far enough in advance.
There's obviously less flexibility than by car, but you can get pretty much anywhere in NZ by bus and it's a great option for moving around cheaply from place to place.
The Kiwi Experience and Stray Bus are two mega popular forms of bus travel around NZ that offer travel tours and packages at varying prices. Think being driven on a coach to some of the most amazing parts of the country with tonnes of other travellers looking for a good time.
They definitely aren't for everyone (if you want total control of where you go and what you do, as well as a wish to avoid the most touristy areas, then I'd consider other plans), and it isn't necessarily a budget option either.
But could be worth looking into as all accommodation, activities and transport are covered.
Hitch hike
For me, hitch hiking is honestly the best bet when it comes to saving money on transport in NZ.
Many people baulk at the idea of 'risking their lives' to the hands and wheels of a total stranger. However, NZ has a reputation for being one of the safest places to travel in the world. And it's the same with hitching.
Go to NZ and you'll see people trying to hitch a ride all over the place. Everyone, from the smallest of girls to the biggest of boys can successfully and safely hitch a lift in NZ.
Find a good spot at the side of the road, write a clear and legible sign, put a smile and your face and stick your thumb up. Bob's your uncle- you're ready to go.
You'll meet amazing people this way and be able to get to almost anywhere in the country without having to pay a single penny. Some of the relationships you'll form with the drivers may even go on to help in other ways too, such as offers to give you dinner or even host you in their homes for the night.
There's a real culture of friendliness and hospitality among New Zealanders. This makes hitching a fantastic way of getting around the country. Of course, there are always risks, but that applies with absolutely anything.
Campervan
This is another hugely popular form of getting around New Zealand. Any where you find yourself in NZ you'll see the bright green Jucy vans/cars buzzing around, which is one of the biggest and most inexpensive rental companies in NZ.
It isn't cheap to hire a camper. However, it does have the benefit of being your transport and accommodation.
There are pros and cons. And, equally, I suppose the money you might save depends on how you'd otherwise plan to sleep and get around.
For instance, if you were planning on free camping and hitch hiking, then you'd spend faaarr more money by hiring a camper. On the other hand, if you were planning on getting buses and staying in hostels every night, it's more likely the camper van would be the budget option.
Consider the social aspect too.
If you're in the camper with friends or loved ones then yep, cool. But if you're travelling solo and you're essentially bound (in order to get your money's worth) to sleeping in the van, then you miss out on the potential to meet people in hostels and guest houses that you would otherwise.
It could get a little lonely.
I suppose it's down to personal preference and budget, but hiring a camper is definitely a cool, helpful and popular way of getting around in NZ.
Car Relocation
This is a really cool way of saving money while travelling on Transport.
Essentially, you know how people hire a car/van/camper in a certain place and then drive it for their particular purpose to a new destination?
Well, you can be the person to drive the vehicle back to its starting location.
So, if you're in place A and have somewhere you want to get to in NZ (place B), search to see if there are any cars that need returning from place A to B.
It's a simple process to apply online, where you choose the destination you're heading and see what's available in terms of cars and deals going.
A major benefit is that you'll often have a certain number of days to return it to the new place. So, suddenly you have a set of wheels and a few days to use them on the way to the location you were heading to anyway.
It is worth looking into potential fees (it's generally free but you might have to pay petrol, for example) and definitely don't get caught speeding (like I did…that was a fun farewell to $170USD) as the fine that's involved obviously defeats the point of doing it in the first place!
There are numerous vehicle relocation companies in NZ, but Transfer Car is one example.
Buy a Car
So, buying something might seem like a funny way to travel on a budget! But hear me out.
Buying a car can be a brilliant form of transport, offering flexibility and complete freedom (not to mention the roads in NZ are awesome for driving!) and you can get some absolute bargains when buying in country.
Honestly, this is something you should look into. Tonnes of travellers looking to leave the country will be flogging their cars, often for amazing discount prices.Look for adverts and signs in hostels and supermarkets, or online too (Facebook groups are a great bet!)
After the initial expenditure, not only will you have complete freedom to travel around NZ as you please, you'll also (depending on the car's size) have a place to sleep too, which will save you money on accommodation.
Equally, when you come to leave, granted it's still in decent condition, you can simply sell your car in the same manner in which you bought it to get your money back.
It'll depend on how much time you have, but if you're planning to be in country for a few months or so, then this is definitely an option to consider.
Time to Wrap Up
And there you have it, some tips for travelling New Zealand on a budget.
The country itself may not be the cheapest place to travel around, but there are tonnes of ways to save and reduce expenditure.
If you're looking to go to NZ and planning to travel as frugally as possible, I hope the above ideas have given you some food for thought!
Have I missed anything out? Let me know if you have any other NZ money saving suggestions in the comments!
About the author
Danny Newman is currently writing and travelling his way around the world in a bid to figure out exactly what he's doing with his life. He'd love you to follow along with his journey over at What's Danny Doing.