As the great European summer vacation season gets underway, have you thought of trying something a little different this year? Rather than a beach resort with a few organised daily excursions, how do you like the idea of a self-driving tour behind the wheel of an exotic luxury car? This may sound extravagant, but in reality, luxury car rental has become much more affordable and is now a genuinely feasible option for an unforgettable vacation. Considering luxury cars tend to be fitted with the latest entertainment systems, offer extreme comfort and advanced safety features, your vacation will be as much about the driving experience as the destination.
Spain is a wonderful country to discover by car, with well-maintained roads and a wealth of natural and historic treasures that include the mountainous regions to the north, the cosmopolitan cities of Madrid and Barcelona, the magnificent plains and hills of Andalusia and the beautiful beaches of the Costa del Sol and Costa Brava. There are many wonderful scenic routes to travel, as well as fast highways that connect cities and major towns, and you will find plenty of charming restaurants, guesthouses and smart hotels along the way.
So which are the best routes to travel? Here are two great regions to explore if you are interested in luxury car rental in Spain.
Andalusia
A driving tour of the Andalucía region should include Malaga, Ronda, Seville, Cordoba and Granada. Starting in the historic city of Malaga, on the Costa del Sol, the route to Ronda passes through the Pueblos Blancos, or 'white villages' of the Cadiz province. Often referred to as one of Europe's greatest drives, this route gives a true feel of Andalucían life, relatively unspoilt by the tourism of other areas of Spain and full of architectural evidence of the regions Muslim and Christian past. Ronda itself is a sight to behold, perched dramatically on either side of the Tajo Gorge and connected by the Puente Nuevo that spans the 120-metre deep crevice. From Ronda, head north to Seville, the stunning capital of Andalucía. The home of Flamenco, the largest gothic cathedral in the world and the impressive Royal Alcazar, you will want to spend some time exploring Seville. From here, your journey will take you to Cordoba via Carmona, where you will find the Great Mosque (Mezquita) of Cordoba before taking the Olive Oil Route to Granada. Any visit to Granada must include the magnificent Alhambra, a stunning Moorish palace, which with its famous tiles and beautiful gardens is one of Europe's finest architectural monuments. Finally take the coastal route via Motril back to Malaga. Driving this route takes you through some breathtakingly beautiful locations, with spectacular scenery and villages that offer a glimpse of true traditional Spanish life.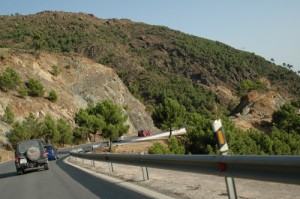 Green Spain
Across to north-western Spain in the country's less known Galicia region, you will find yourself in 'Green Spain', so called due to its lush vegetation thanks to its wet and temperate climate. With over a thousand kilometres of beautiful coastline to tour by car, the area includes Asturias, Cantabria and the northern half of the Basque Country from Galicia all the way to the French border. With rugged headlands and traditional fishing villages, this region offers many fantastic drives, the best section being the approximately 55 kilometres between Viveiro and Ribadeo. Away from the craggy coastline, the interior is a true paradise and a landscape made for driving. The ever-changing scenery and magnificent views certainly are remarkable, and seen from the comfort of a luxury car, this will be Spanish holiday to remember.
Clare Haward is a writer for Europe Luxury Car Hire, one of Europe's largest luxury car rental companies.