What to expect on a Kenyan Safari
Starting from the endless Savannah plains to the rugged mountains and hills, Kenya offers the visitor incredible physical experiences. The scenery is truly breath-taking while the rich wildlife offers some amazing viewing. Kenya offers some of the world's finest, with the famed Maasai Mara at the top of the greatest safari destinations.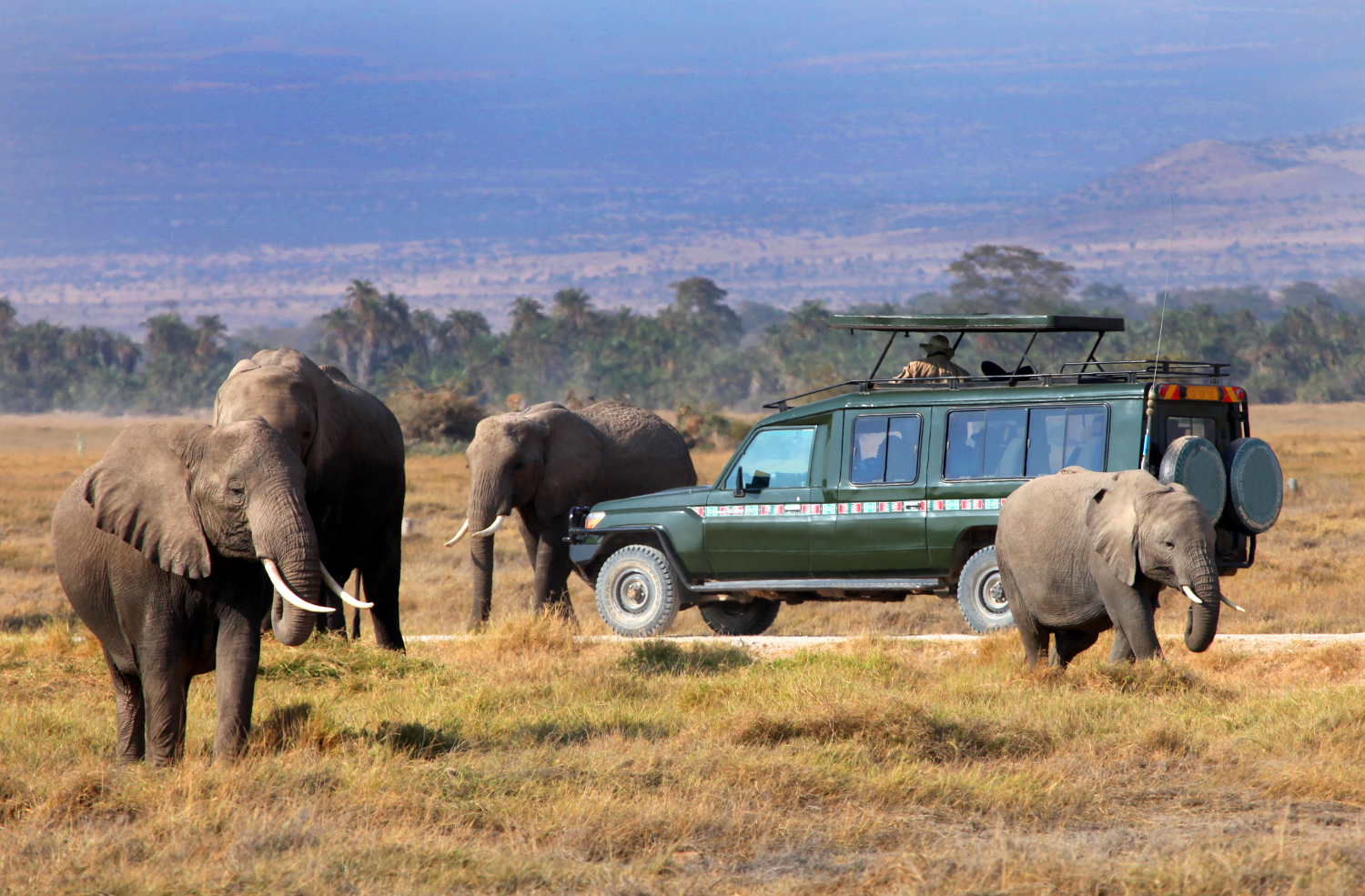 Kenya – Masai Mara Reserve – elephants, photo by image focus / Shutterstock
Almost 8% of Kenya is made up of protected area specifically for wildlife conservation. Some of the protected and gazetted areas are landscapes and unique seascapes that have been demarcated either as National Parks or protected National Reserves as well as conservancies.
With the country being easily accessible from major international airports and with a well-organised and varied internal tourism infrastructure, the Kenya safari promises to deliver good value for your money. The capability of combining beautiful beaches with amazing game-viewing has made Kenya a great adventure, family holiday and honeymoon destination.
Among the key attractions you can expect to see or experience in Kenya includes:
Big-Game Viewing
In Kenya most of the big game watching occurs while on incredible game drives in 4×4 vehicles. Some of the best regions for this activity are Samburu, Amboseli, Tsavo West, Lake Nakuru, Ol Pejeta and Lewa conservancies and the truly exceptional Maasai Mara. Around the expansive and world famous Maasai Mara, there is a broad range of places where visitors can lodge or camp.
Spectacular Mountain Climbing/Trekking
Mount Kenya, the highest spot in the country offers great trekking. The trek towards Point Lenana at 16,355 ft (4,985 metres) is a rewarding and challenging adventure with breathtaking views. Most of the peaks involve rock climbing or scrambling. There are several other locations across the country where you can undertake serious walking such as from Mount Longonot at the base of the Great Rift Valley to Mathews Range or the Laikipia region.
Unique Bird Watching
Birding possibilities in Kenya are endless. With in excess of 1100 bird species recorded in the country, the country is a leader among Africa's premier destinations for birding. Among the most notable areas are the forests around the Mt Kenya, Mt Elgon, the Aberdares, the areas around the Lakes Nakuru, Bogoria and Naivasha. The Kakamega remnant of the rain forest is special as about 10% of the 367 bird species in Kenya can only be found here. Along the Kenyan coast, Arabuko Sokoke forest and Mida Creek are exceptional zones.
Walking Safaris
Whilst lots of safari properties in the country offer nature walks done as individual activities, Kenya is in addition an excellent walking destination for those who seek more adventurous and longer walking trails. Trails are available where walking can be done for several days as you pitch up 'fly-camps' somewhere in the bush.
All organised walks are undertaken under the full guidance of professional guides. Back up crews undertake camp chores and provide meals and drinks. In the northern parts of the country, camels are frequently employed in transporting food and camping equipment in what are known as 'camel safaris'.
Hot-Air Ballooning
In Kenya, hot-air balloon safaris are available in several locations, most notably the Masai Mara. With take-off early at dawn, you will float/glide over the Kenyan plains for approximately one hour before you land. Most air trips serve you with a 'champagne' breakfast before transferring you back to base. These are very memorable events with magical experiences.
Riding Safaris
Kenya is among the leading African countries worth considering for horse riding as it has excellent riding options that are suitable all riding abilities. Riding can be accessed across Kenya and lots of properties provide horse riding specifically as an individual activity, sometimes combined with game drives or nature walks.
Community Lodges and Cultural Experiences
Kenya is a densely populated country that has a multitude of ethnic communities and very colourful cultures. Even when you stay within most of the designated National Reserves or National Parks, you are going to interact with the local people either as staff or tour guides.
Many lodges and safari camps in most of these locations work very closely with the local communities, and you are likely to get opportunities of visiting the local villages and learning more about the local community.
Fishing, Scuba-diving & Snorkeling
Although several freshwater fly-fishing opportunities are available on Lake Victoria, the Aberdares and Mount Kenya, the best fishing destinations that offer big game and deep sea fishing in Kenya are off the coast.
Much of Kenya's coastline is well protected behind reefs, providing excellent snorkeling and diving sites. Diving locations are best around Mombasa and Malindi, and on a limited scale to the north around Manda and Lamu Islands.
Conclusion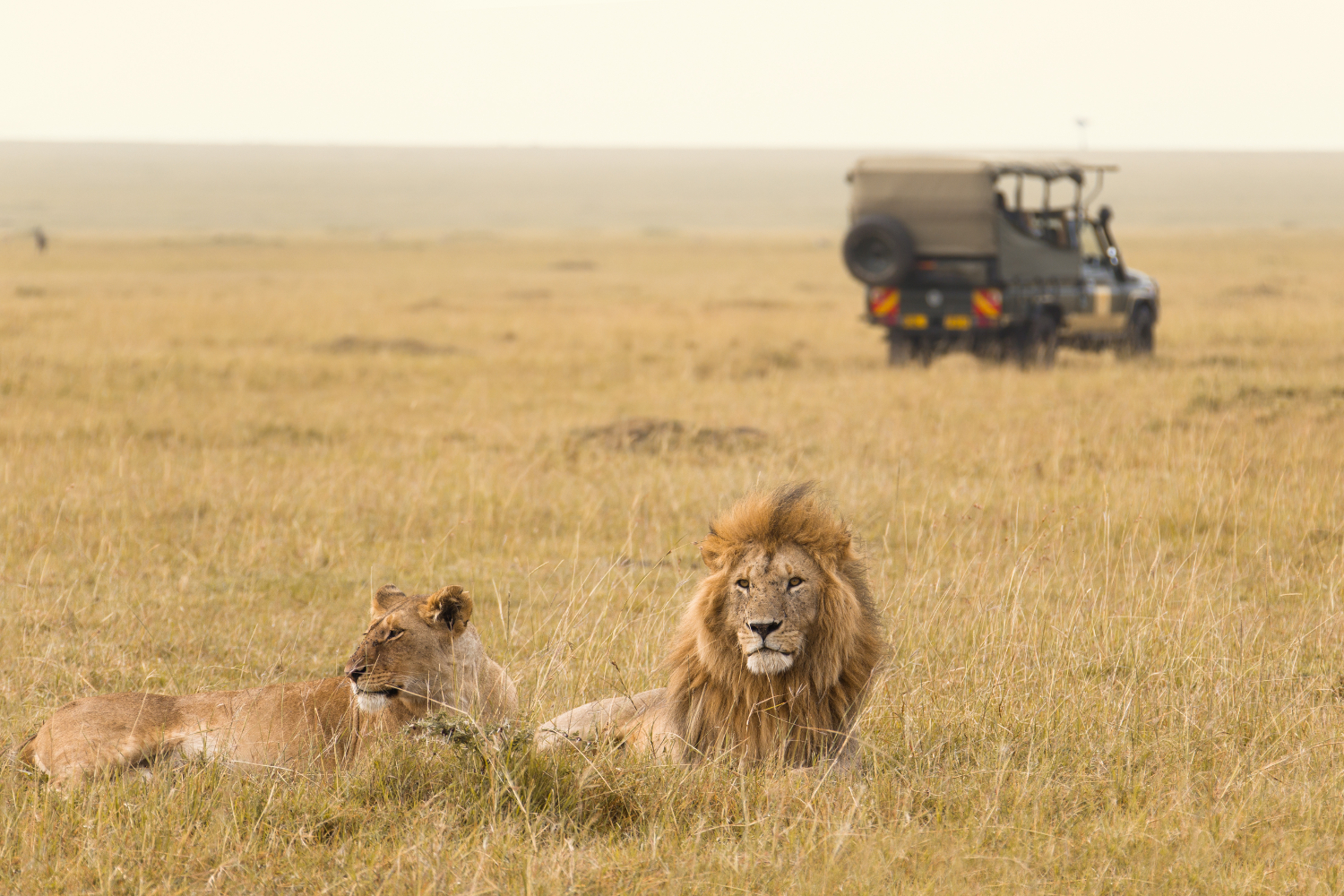 Kenya – African lion couple – safari, photo by Ana Gram / Shutterstock
Kenya offers a truly broad range of wildlife viewing, including all the big 5 – leopard, lion and cheetah, elephant and rhino (black & white). This is also home to the three known species of giraffe. The Kenyan beaches are spectacular. Whether you want a holiday, specialist wildlife experience, a beach holiday, or perhaps a feel of the community life in a secluded lodge in the bush, you will find it here. So no matter what you are expecting, Kenya makes the ideal holiday and adventure destination.