The Unique Temples and Houses of Vietnam and Thailand
For someone coming from a different culture and used with different architecture and worship places, there's something special about Thailand's and Vietnam's temples and houses. They fascinate and they are worthy of being discovered in their entirety. Sara from The Life of a Solivagant shares the unique temples and houses of Vietnam and Thailand. Include all of these places on your Thailand itinerary and Vietnam itinerary. You won't regret it!
South East Asia is full of temples of all kinds. Especially Thailand, where I feel there is more temples than anything else. As is my experience in Chiang Mai anyway. One of my favourite things to do, personally, is find the most unique temples I can. Or really the most unique buildings in general. After living in Chiang Mai back in 2012, and visiting the white temple 3 hours north in Chiang Rai, a couple times, I recently went back and was able to visit even more unique temples. And now living in Vietnam, I have had the opportunity to visit some other ones here as well. I am now obsessed with finding the most unique and quirky places in countries, so here are some of my favourites I have been able to find in Thailand and Vietnam.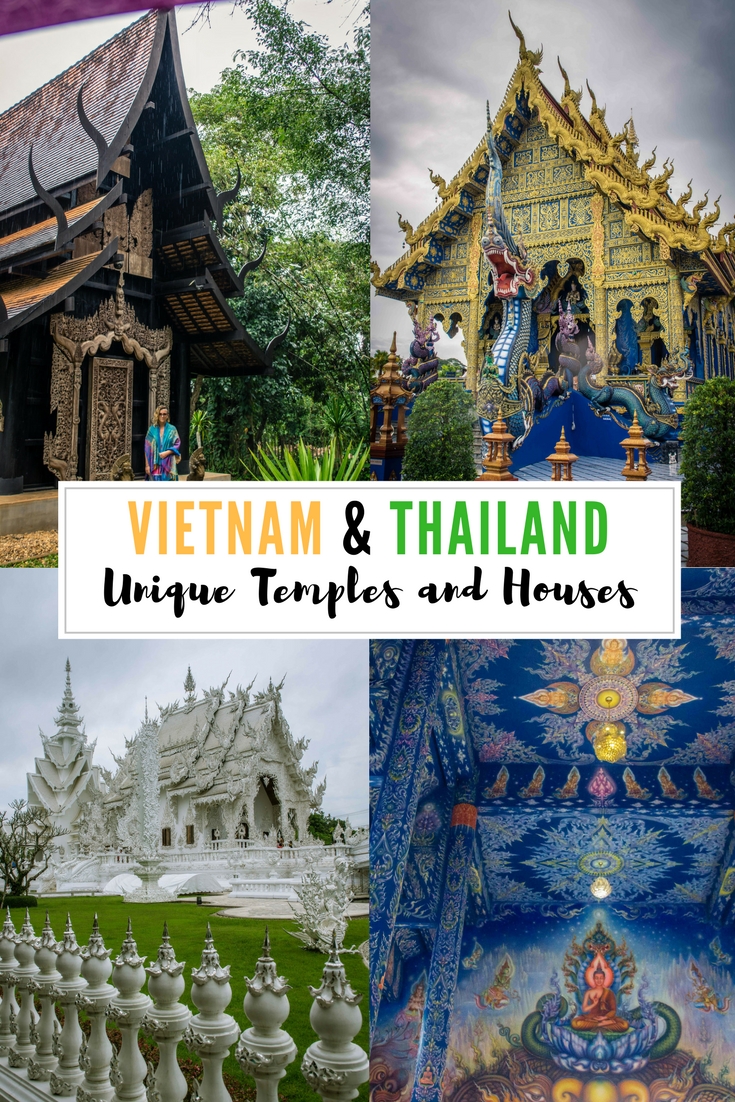 The Unique Temples and Houses of Vietnam and Thailand
Thailand
Wat Rong Khun also known as The White Temple in Chiang Rai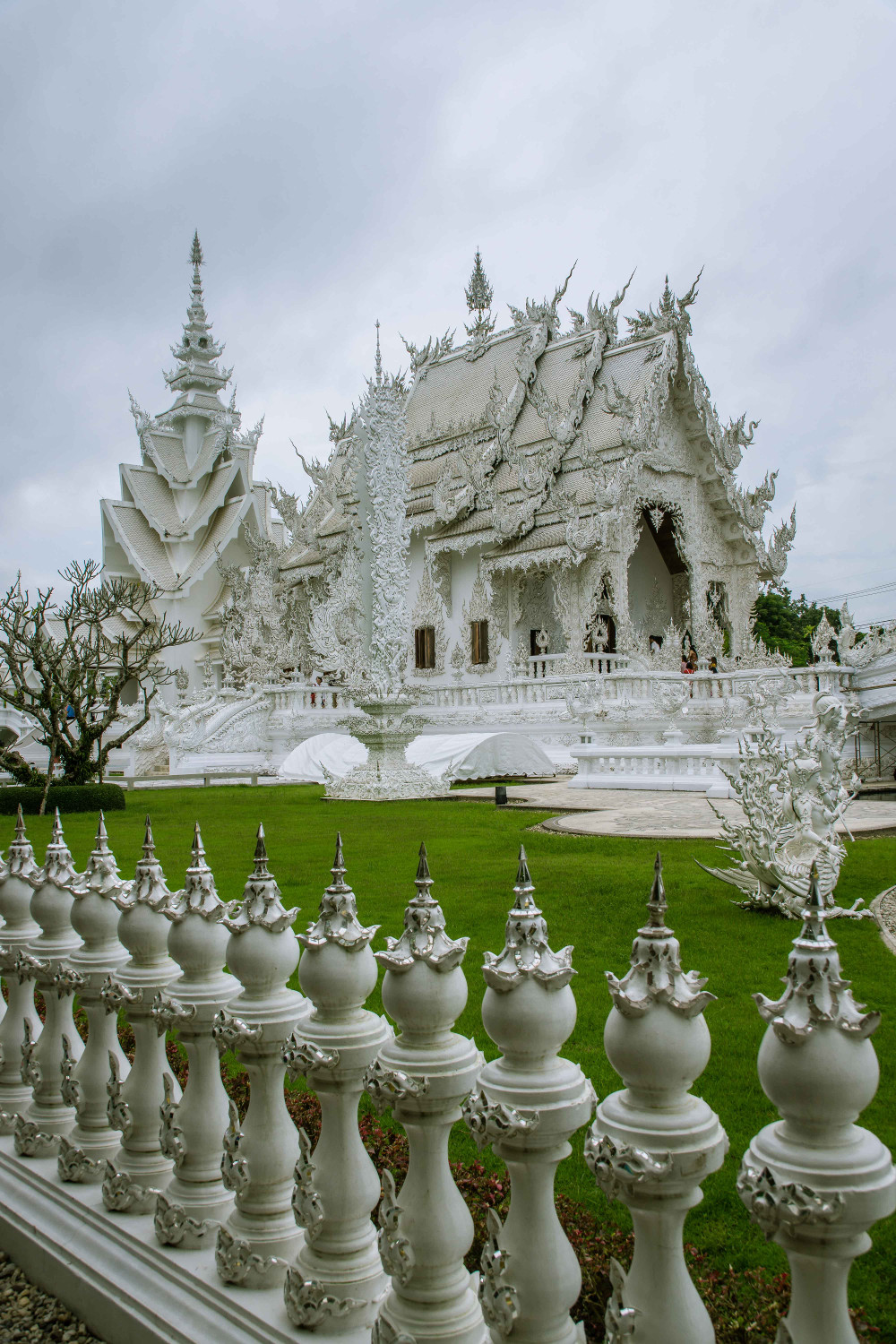 After seeing the white temple, the first time in Chiang Rai on a tour, it quickly became my favourite building in the world. Chalermchai Kositpipat, a local artist, took over renovations of the white temple when it was in very bad shape and has since turned it into a work of art. Since 1997, the white temple has been under renovations and the projection of it's completion is for the year 2070. I first visited it in 2012, and again just last week, 5 years later, and can see why it will take so long, as not much had changed in 5 years.
The temple is unlike any temple you will come across in Thailand, as the main building is all completely white outside. In the front of it, leading to the entrance of the main building, is the bridge of 'the cycle of rebirth' which has on either side of the bridge, hands rising up out of the ground, represented desire unrestrained. The point is to say that one must forgo temptation in order to be happy and make it to 'the gate of heaven' which is the entrance to the Ubosot, the main building. The building is all white with mirrored glass covering many of the surfaces which makes it glimmer in the sunlight. Inside the building, where there are no pictures allowed, is the most impressive murals of modern interpretations of good and evil. It was definitely the most fascinating building I have seen and I plan to go back again in the future to see what changes are made in years to come.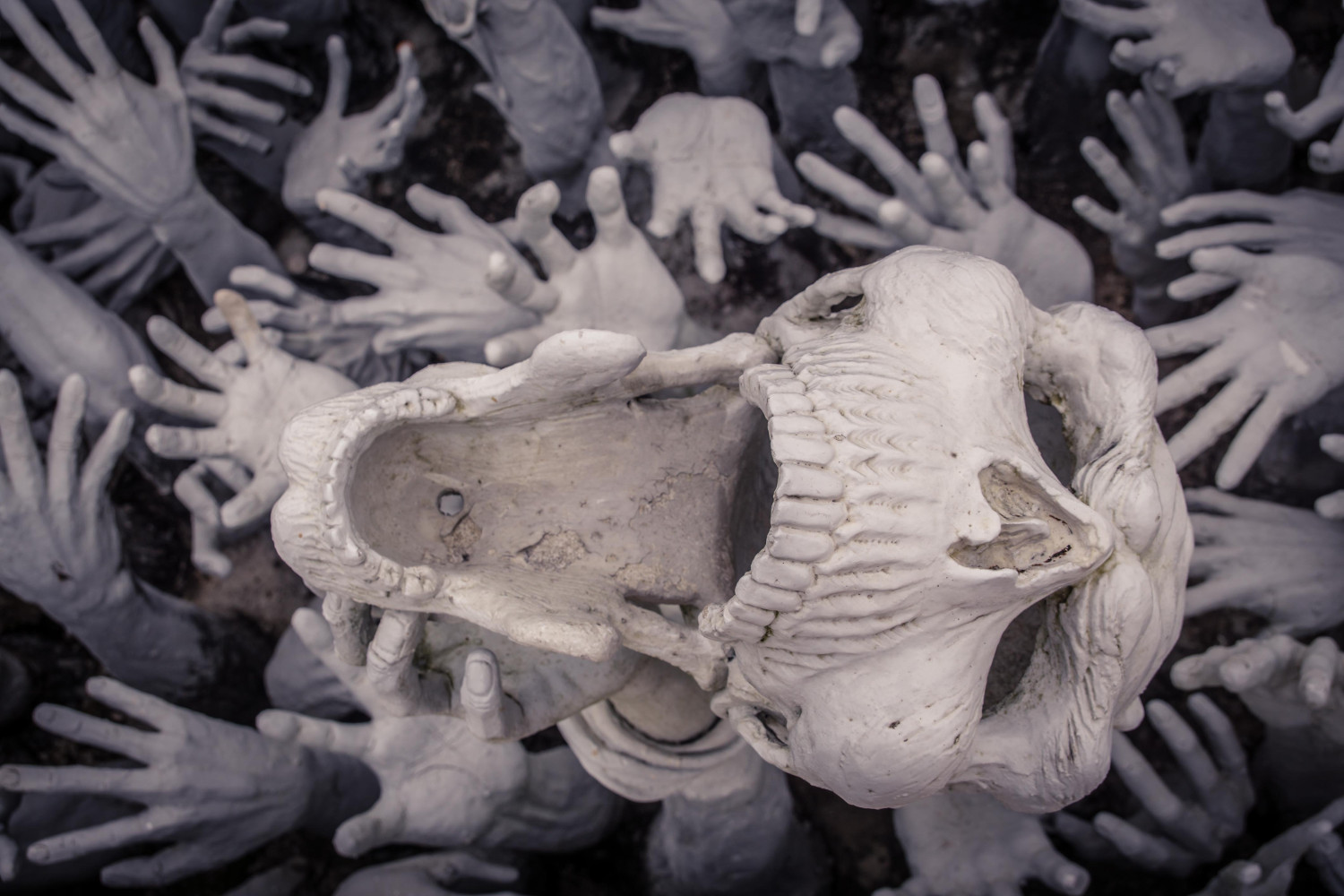 Baan Dam Museum also known as the Black House in Chiang Rai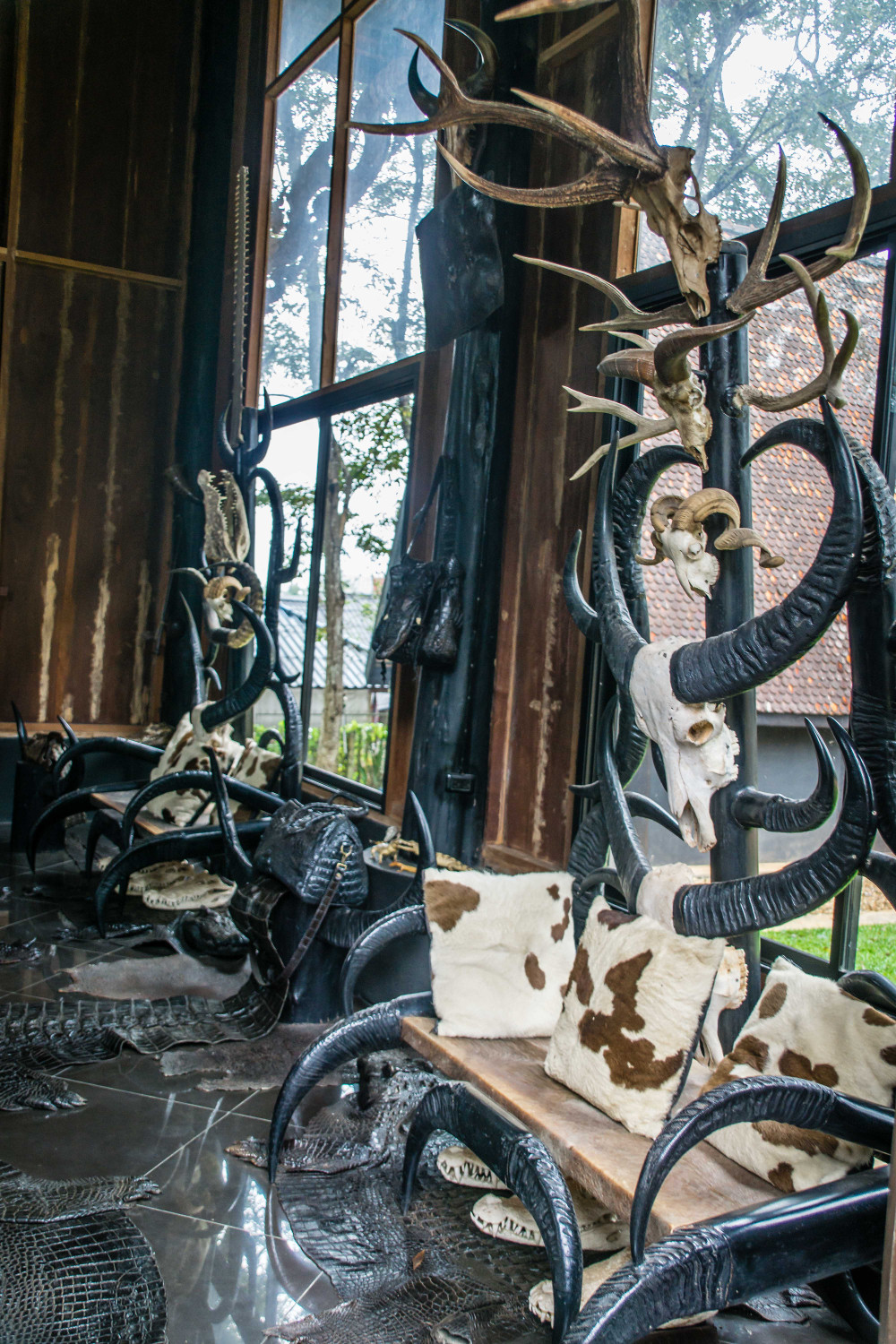 To be honest, I had high hopes for the black house. I hadn't visited my first time around in Chiang Rai, but I made a point to do so the last time I visited. The buildings were definitely unique and I could see how people saw it as the anti-thesis to the white temple. Though not a temple, museum is a series of 40 buildings, all in black (and a bit of brown) created by an artist, Thawan Duchanee. These buildings are filled with his taxidermy and bones. I would advise against anyone who is vegetarian or vegan coming to visit this place, as it boasts a large collection including elephant skeleton, the skins of bears, tigers, and reptiles, and even some unidentifiable skulls. Not for the faint of heart, but intriguing nonetheless.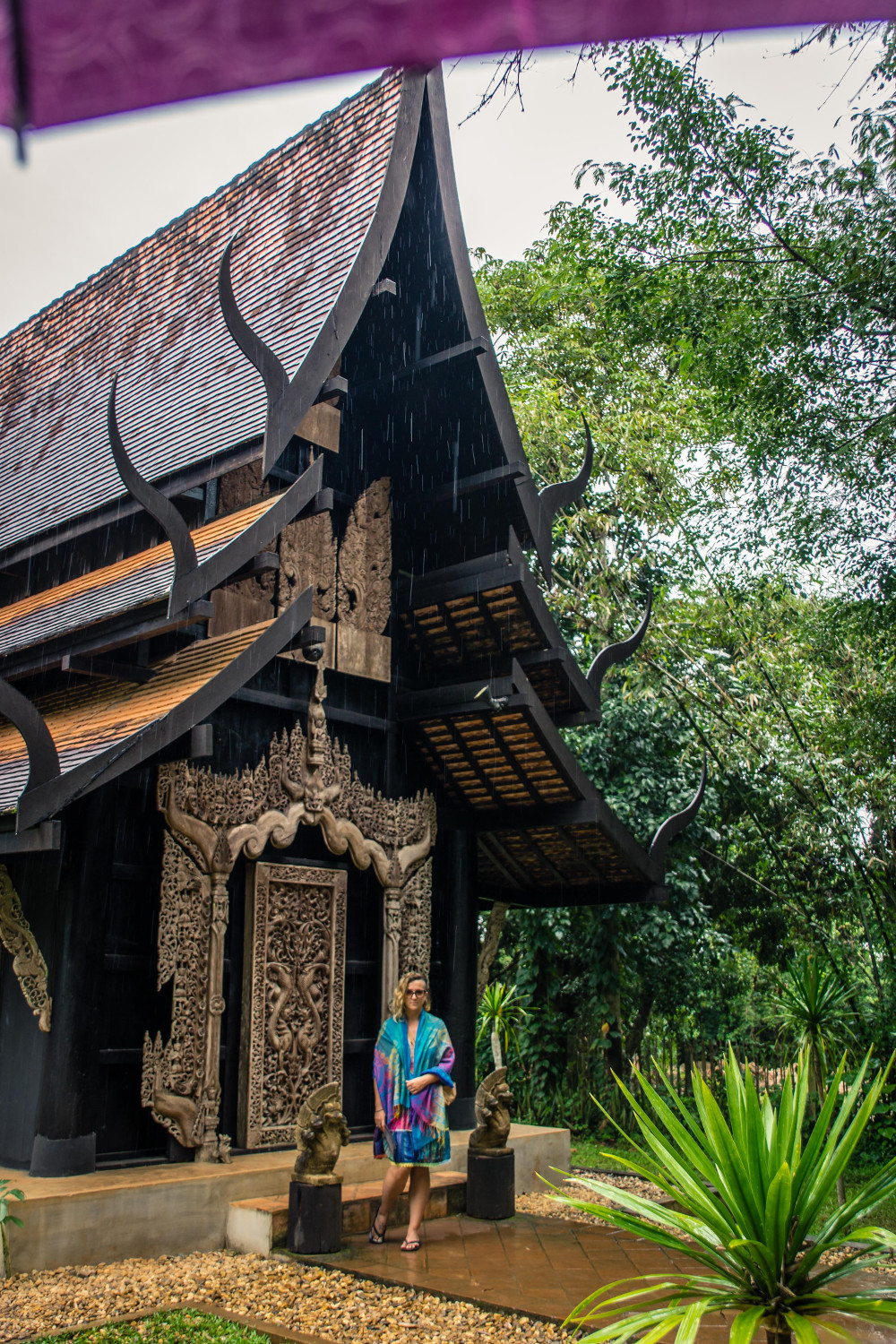 Wat Rong Suea Ten also known as the Blue Temple in Chiang Rai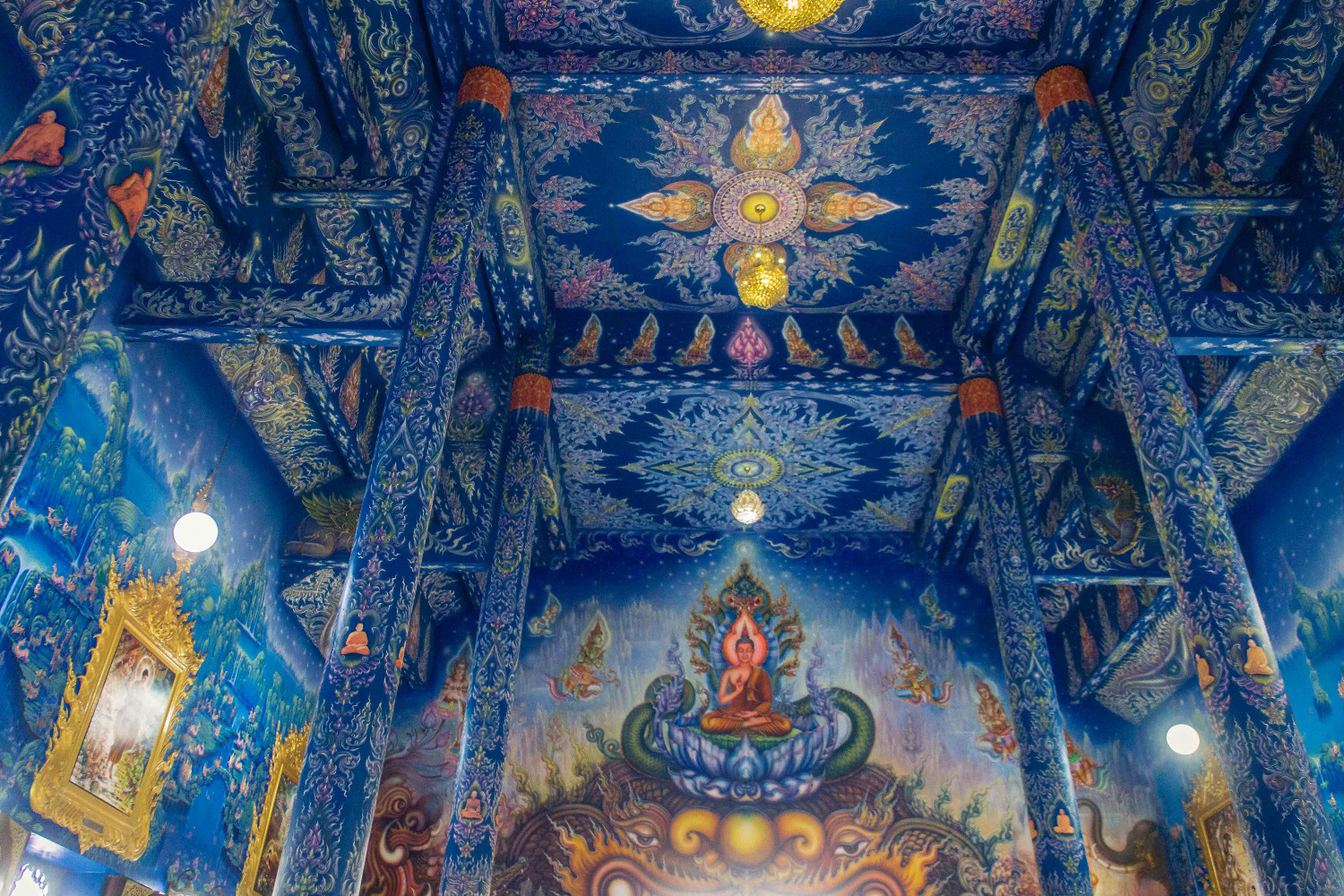 To me, the blue temple was indeed the true anti-thesis to the white temple. Instead of completely white, or even just one colour, though called the blue temple, it is more colourful than I had imagined. Though predominately blue and gold, this temple has incredible colourful details, not only outside but inside as well. This temple was built by a student of Chalermchai Kositpipat, the artist who created the White Temple. The inside walls of the temple is where you will find incredible and colourful murals. This temple is the newest, as it was only created in 2005 and completed in 2016.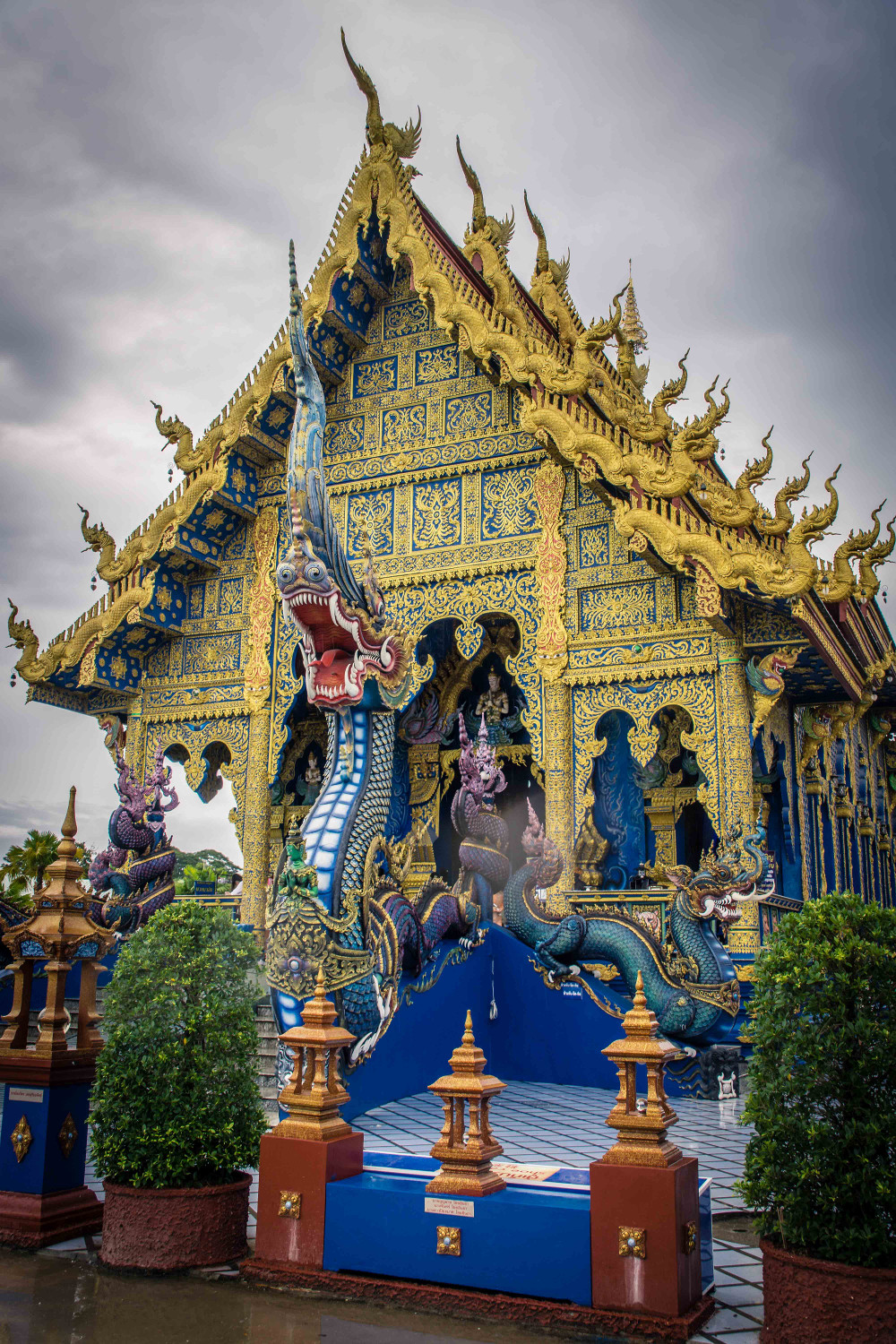 The best way to go see all three of these from Chiang Mai on a day trip is to book a tour to all of them. Or stay in Chiang Rai for a couple nights and take a tuktuk or rent or motorbike.
Vietnam
Linh Phuoc Pagoda in Dalat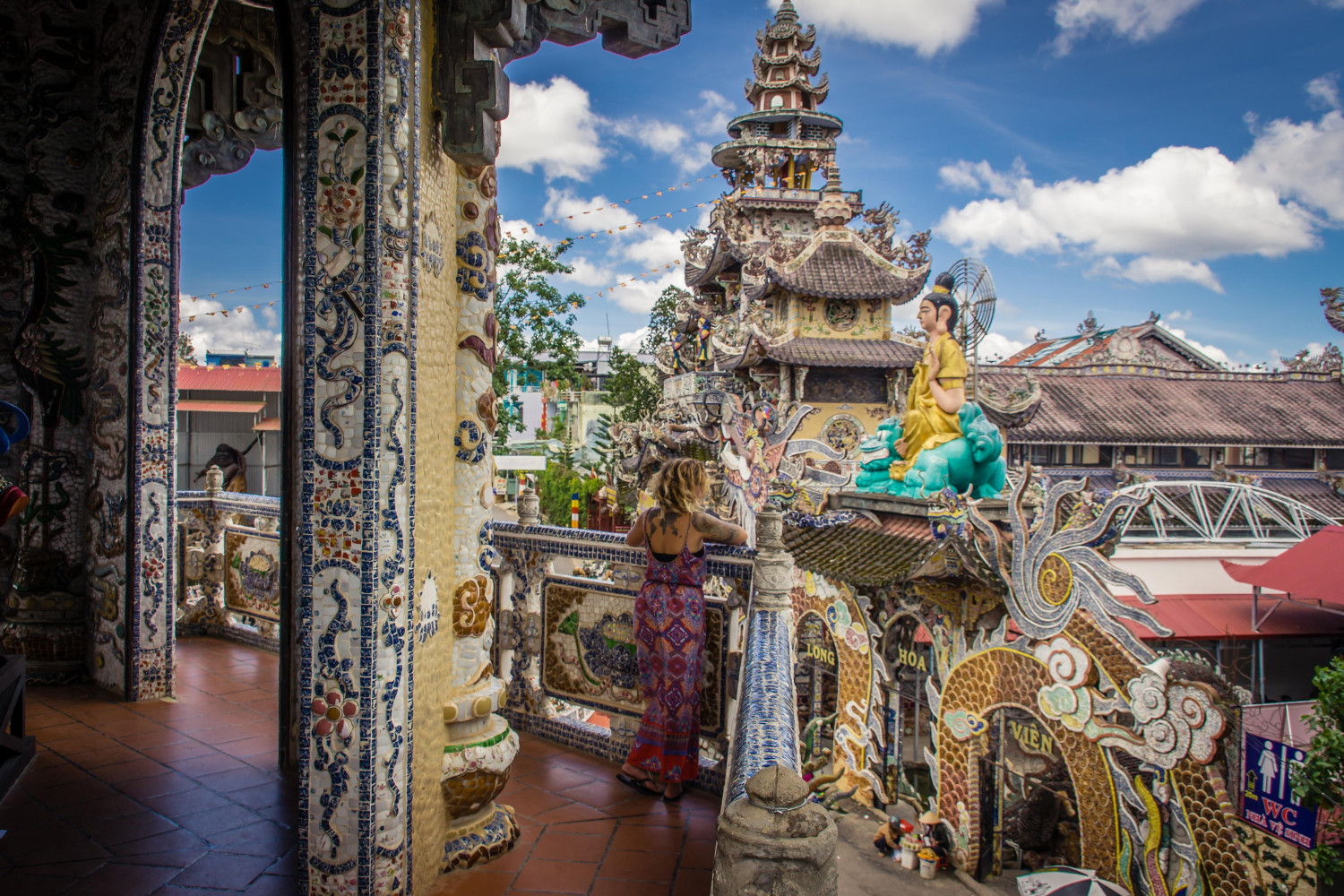 Sometimes I see buildings, or places in general, and get so entranced by them that I need to go visit the city they are in just to check it out. Linh Phuoc Pagoda was one of those places. I saw photos of it online and I just loved the colourful temple feels of it. It made me think back to the white temple in Thailand, but obviously its completely different. The thing I loved most? It's made up of broken glass, porcelain, terracotta and beer bottles. Every surface, wall, figure, dragon… all of it is recycled pieces. It was absolutely incredible. No pictures can truly do this place justice, as it was just so colourful and detailed. The photos just can't capture the true essence of such a beautiful structure.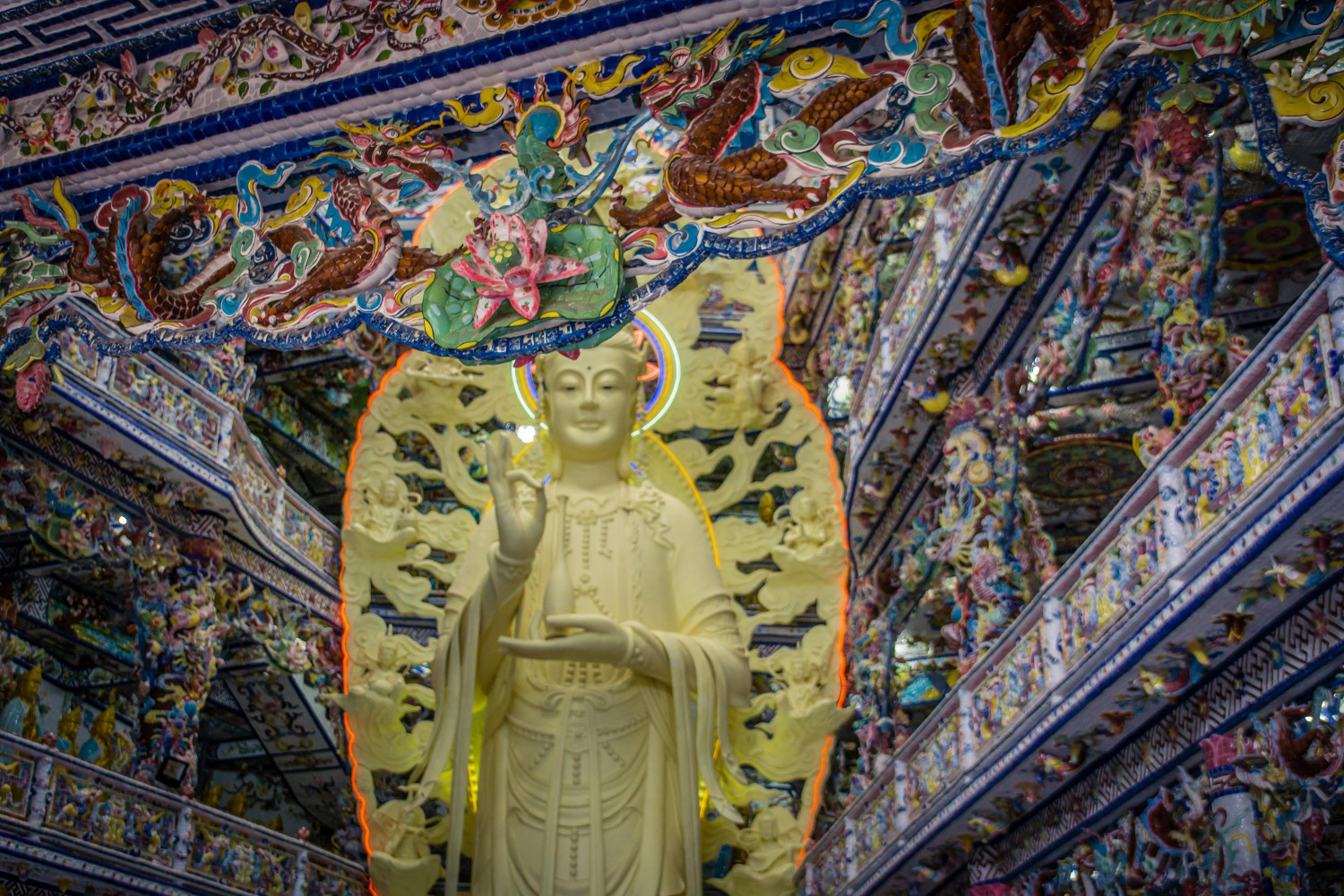 Crazy House in Dalat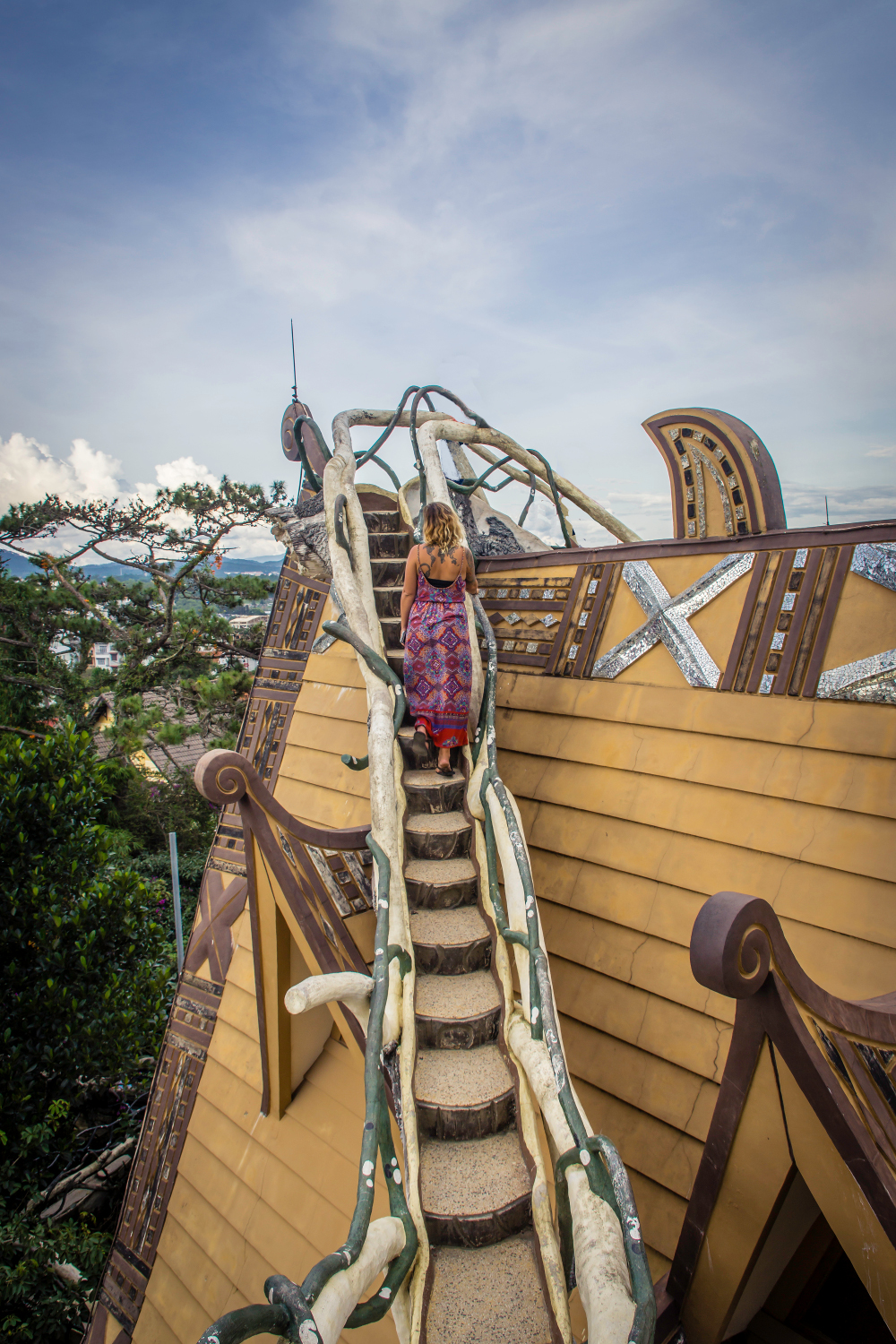 Not a temple. Not a religious building at all actually. But the crazy house was created by a Vietnamese architect by the name of Đặng Việt Nga. To me it felt like I was in a Tim Burton movie, mixed with some Gaudi and Dali in there. It was a bit surreal and fairytale like to wander in and out of the buildings. It was definitely very cool, but strange. You can also stay there, as there are actual rooms to book as a part of it. But since people can visit it pretty much all hours of the day, it would definitely not be a peaceful or private place to stay while in Dalat. I much preferred just wandering the grounds and seeing the different creations the architect has come up with. They are still currently working on it, as we saw them painting and creating what seems to be a water themed part of the buildings. Definitely worth checking out, but go early in the day to avoid crowds, as it's definitely a tourist attraction.
About the author
Sara Alexis is a teacher, teaching abroad, who has lived in 4 continents and 6 countries, with a goal to live and teach in every continent. She is writing a novel, but also has a blog and is a photographer on the side. Her focus is traveling sustainably and ethically, and also finding unique places to visit all over the world. You can find her on Instagram and Facebook.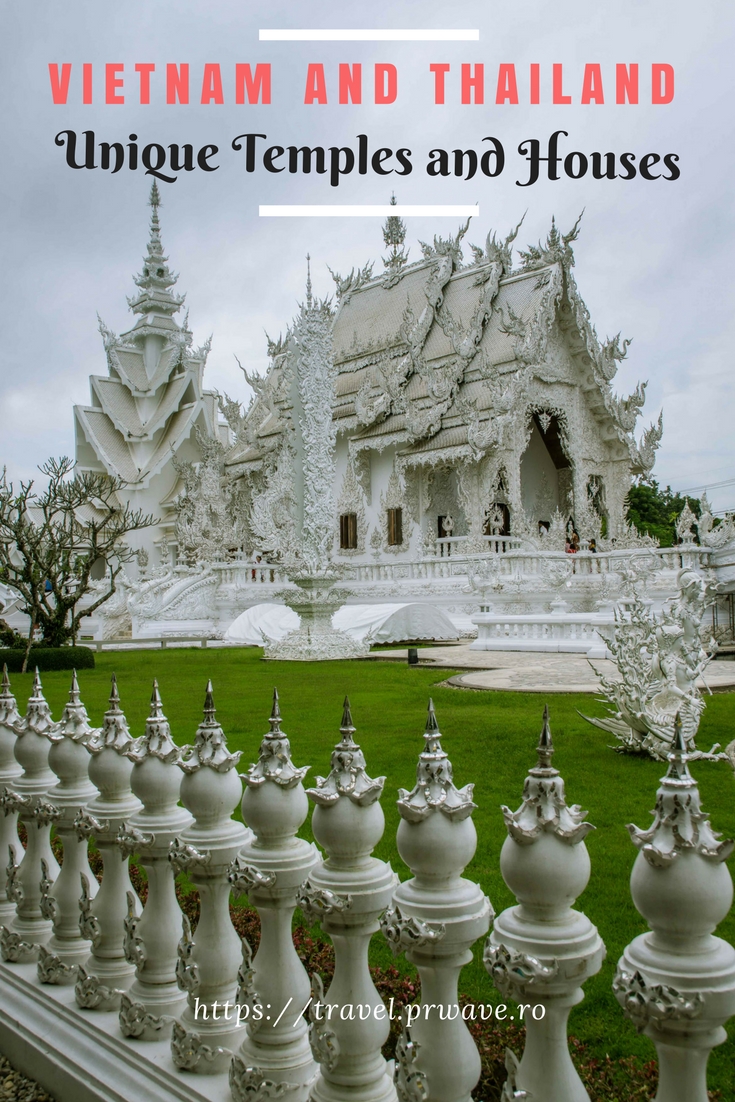 Save
Save