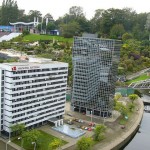 If you plan to visit or travel around the Netherlands you should have in mind a couple of things before coming this way. I landed here 2 months ago and I still find out things that are peculiar to me (like the garbage container which has working hours between 7 am and 11 pm and it is under camera surveillance).
But first things first. When you get here and you're short on cash you would probably like to buy a train ticket or something from a supermarket using your international debit card. Well, that's not possible in most of the cases. The Dutch have a different card payment system called PIN which doesn't work with regular debit cards. That's why it's good to use an ATM to withdraw money from your international card than staying moneyless in front of the cashier. So far, the only place where I managed to pay with my non-Dutch card was for the subway tickets, which is actually a card (called OV-chipkaart) on which you load money.
There's also a trick when it comes to paper money. For security and financial reasons, stores do not accept banknotes bigger than 100 Euros. In some cases, small shops for example, the limit is actually the 50 Euro banknote. You can always break a 100, 200 or 500 Euro banknote in a bank but that might not be just around the corner. Therefore it's good to have some 50 Euro banknotes with you, just in case you need to buy something.
If you travel by car, police recommends you not to leave important assets in the car. I have noticed that people leave the glove box compartment open just so it doesn't attract thieves, especially if your car is registered in a foreign country. Better to be safe than sorry. Also, most of the signs here are in Dutch, if not all. I haven't seen anything written in English but the good news is that Dutch people speak good English and are usually willing to help.
Sticking to the English language, you should bare in mind that websites are also not in English. With very few exceptions (like the Dutch railway site) everything else is in Dutch. Even mobile phone operators do not have an English version of their site. If you subscribe to their services, they warn you that the website is available only in Dutch.
If you plan on visiting the Netherlands have these things in mind and enjoy your stay. There are plenty of canals, windmills, and parks here that you could visit.