Strange law in England: a pregnant woman can pee in a Policeman's helmet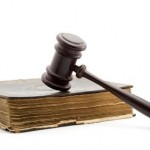 I watch "Top Gear" – the show about cars but a show beyond cars I'd say.
In an episode I recently saw Clarkson mentioned a puzzling law: a pregnant woman can legally upon request pee in a Policeman's helmet.
Now, I was not pregnant but I know pregnant women need to go often in a certain place.
I also heard (for I've never been to London) that it's not a problem to find a toilette.
Most certainly this is an old law – but it looks like it's still active.
What do you think about that?
And if this is not a strange enough law, take a look here to see some more from all over the world.
Do you know strange laws/rules in your country?