Terrible: in South Africa's Kruger Park Specific Details Offered by Visitors Help Poachers
Terrible: in South Africa's Kruger Park Specific Details Offered by Visitors Help Poachers
Sometimes technology doesn't help nature. In South Africa's Kruger Park very specific details provided on different social media networks on exact places where different wild animals are lead to kills of those animals by poachers.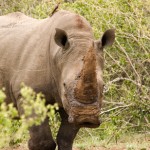 This is the reason why visitors are asked to not mention the exact place they see an animal. Anyone can still tweet but don't give specific details.
At least 159 rhinos killed so far in 2012 in South Africa. In Kruger alone 95 of the horned beasts have been taken this year.
The animals are being slaughtered for their horns. The powder resulted from these horns is used in China and Southeast Asia in traditional medicine.
But being very specific can lead to other types of harm to the nature. Imagine loging on Foursquare or other such apps and revealing special places with lovely plants or amazing views. Sometimes such places should be treasured and revealed only to trusted persons as, as I know happened in several places loved by some of the people I know and that ended up two years later all buried in pets, plastic, picnic leftovers and aluminium cans.
What do you think about such restrictions in South Africa? Should they be used in other places too? Did you see a good and lovely place destroyed by people's callousness?