Five interesting facts about the Black Church in Brasov
If you visit Brasov, then seeing the Black Church (Biserica Neagra) will definitely be on your list. Located in the Piata Sfatului, in the old town's square, this church has quite a troubled story. It was built between 1385 and 1477 on a site of a previous church which was destroyed by Mongol invasions in 1242. This church was originally dedicated to Virgin Marry and was a church was Roman-Catholic, but it is now a Lutheran one.
Click on the photos for a larger view!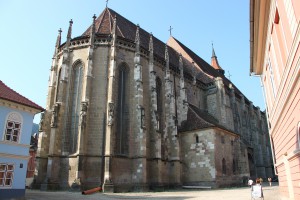 1. The name of the church comes from the Great Fire, set by Hapsburg invaders in 1689 when most of the city was burned down.
2.The restoration of this church took almost 100 years, and the only original wood part that resisted the fire is a plate with the year 1477 written in Gothic letters.
3. The Black Church is the most important Gothic church in the country and one of the largest in Europe.
4. The church has the biggest bell in Romania – a six ton bell – and also features an impressive 4,000 pipe organ built in 1839 by Carl August Buchholz, one of the biggest organs in Europe.
5. The Black Church is known to have the richest collection of Anatolian carpets in all Europe. Unfortunately, in both occasions I was in Brasov, I wasn't able to go inside (the church was closed), therefore I cannot tell you or show you these carpets.
In fact, if you want to see the interior of the church, keep in mind that The Black Church is closed on Mondays. There are several other days when it is closed around the year too, but Mondays are really important to know and avoid. I was in Brasov on a Monday, so I too only saw the exterior.
In order to get to the Black Church, you'll see that there are signs placed in the city, useful for pedestrians and car travelers alike. This old part of the city, visited by so many tourists and travelers all year long, groups these beautiful old churches and other buildings. Piata Statului is the main point of attraction – there are some shops and an area with coffees and restaurants, and many concerts take place in this square. The watch that can be seen on one of the buildings in this square is a famous one, and visible all the way from the Timpa mountain (accessible by hike or cable car). I will show you this old Brasov (along with the new one) in a different post). Until then, here are two more photos of Biserica Neagra – the Black Church.