Explore Pre-Columbian Peru
Few travel locations can match the mystique and allure of Peru. During the course of history, this South American country has been the home of several advanced pre-Columbian empires. Many of these empires rose and fell long before the Spanish conquistadors introduced European rule to the region, leaving behind awe-inspiring ruins and other traces of their advanced civilizations.
The Nazca Desert
The Nazca Desert is home to one of the world's most mysterious archaeological relics. Over a millennium ago, the Nazca people painstakingly sculpted the desert floor into a series of razor-straight lines and unusual pictograms. What adds to the interest of these pictograms is that they can be clearly viewed only from the sky – although they were created thousands of years before the first human flights.
Debate still lingers over the purpose of the lines. Some argue that they were probably used as ceremonial markings for inducing rainfall. Others have even proposed their use as landing strips for ancient UFOs. Taking a short flight over the desert is the best way to view the Nazca lines so you can make up your mind for yourself.
Cusco
The city of Cusco was the historical capital of the famous Incan Empire. The Incans appropriated the land and its monuments from earlier civilizations, leaving behind a wealth of pre-Columbian monuments and buildings. In turn, the Spanish colonialists added to what was left by the Incans.
The result is an intriguing blend of pre-Colombian and colonial Spanish architecture, which is best explored with a guided foot-tour. Popular attractions in the city include the Temple of the Sun and the Cusco Cathedral. A number of famous ruins are located close to the city, including the fortress at Sacsayhuaman and the Puca Pucara labyrinth.
Machu Pichu
The ruins of the mountain city of Machu Pichu are Peru's most iconic landmark. Situated almost two and a half kilometres above sea level, the ruins are accessible via a steep railroad, and are often bathed in mists from the surrounding mountain peaks.
Machu Pichu is relatively modern by Incan standards, having been constructed in the 1400s. For much of its history, the site was kept secret by the descendants of the Incas. It was revealed to the West only a century ago.
A guided tour of the ruins at Machu Pichu is a must. As impressive and atmospheric as the ruins are in their own right, a knowledgeable guide will help you unlock the secrets encoded in the ancient stone buildings and surrounding terraces.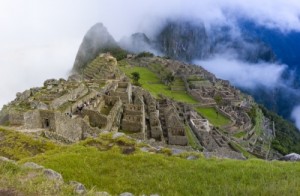 There are many more fascinating ancient destinations in Peru, including the man-made Uros Islands on Lake Titicaca and numerous fortresses and temples nestled in the folds of the Andes mountain range.
Jeff is a writer for Thomas Cook Tours, a provider of escorted holidays that enables you to explore the secrets of the Incas for yourself.