There's so much more to Egypt than the pyramids, the Red Sea and the hustle and bustle of Sharm El Sheikh. With scorching sunshine, beautiful white sands and centuries of culture to explore it is worth setting your sights on Taba, situated on the north Egyptian border.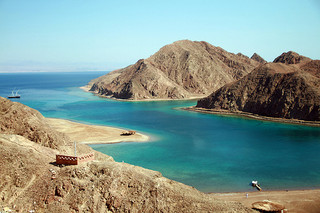 A holiday here will benefit from fewer tourists, affording a more relaxing stay. It is recommended that a visit between October and May is ideal as this region has a hot arid desert climate that can be too much for non-residents, reaching highs of 39˚C in the height of summer. So go wild with the beachwear as no matter how skimpy, you will certainly not be feeling the cold.
Taba boasts over 70 kilometres of sandy coastline from Taba Town to Nuweiba and is a favourite of the beaches linked to the Red Sea.
Here is a list of interesting things you can do while in Taba.
Taba Marine Life
When you don't have the time, money or inclination to go diving, there is still a way for you to take in the wonderful marine life of Taba. Say goodbye to squeezing into a wetsuit, and instead opt for the glass-sided boat of the Seascope Adventure. From the comfort of the bottom of the boat, you can see colourful and unusual marine life without a drop of water on you.
Pharaoh's Island
Attracting many divers because of the spectacular coral reef and marine life surrounding it, the island is only a 30-minute ferry ride from the town of Taba. Pharaoh's island is famous for its turquoise waters and the beautiful Picasso Trigger Fish and was named a UNESCO World Heritage site in 2003. While on the island, you can visit the impressive Castle of Salah ad-Din which is a 12th century fortress, experiencing Egyptian history first-hand.
Sinai Desert by Night
If you want to leave civilisation behind for a night, then a journey into the Sinai Desert could be your ideal trip. Taba town is backed by the beautiful Sinai Mountains providing outstanding scenery as you drive into the arid desert. You will be treated to a traditional Bedouin dinner in an impressive tent while enjoying the hospitality of local tribespeople. An added bonus to this unique trip is an observation of the night's sky with expert guidance on how to capture the heavens in photographs.
Jerusalem
While in Taba you can immerse yourself in religious history with a day-trip to Jerusalem. The city is packed with temples, churches and mosques and dates back over 4,000 years. Even if you have little interest in religion, you will have no problems understanding why millions of people visit the beautiful city each year. You can see the Church of Sepulchre – which was built where Christ was crucified and buried – as well The Last Supper Room at Mount Zion and The Wailing Room. You can also enjoy the breath-taking views at the Mount of Olives.
So with plenty to do and see, Taba is a great alternative to the busier and more frequented parts of Egypt. VeryHolidays provide a great range of Taba holidays if you fancy giving it a whirl and can offer extremely reasonable prices to this lesser-known destination.