Can I Bring My Pet When Moving to Australia?
So you are planning to make a big move down under, but you are wondering whether or not you can bring your furry friend along? You don't want to leave your dog or cat behind, because they are a beloved member of the family. Most people feel that the hassle of importing a pet is worth it, as they couldn't imagine leaving their furry friend behind.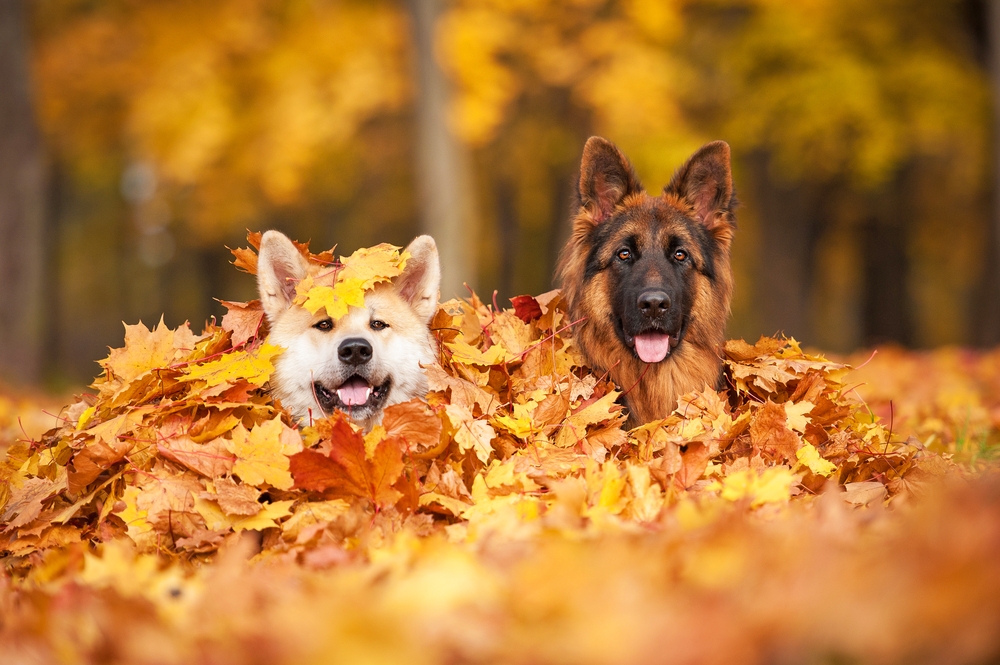 dogs in autumn, photo by Rita Kochmarjova / Shutterstock
Can I Bring My Pet?
The good news is that it is possible to import a cat or dog to Australia. However, there are some regulations that the pet needs to meet and all animals must undergo quarantine in accordance with the Rabies Prevention Law.
Australia allows cats, horses and dogs to be brought in from other countries, as long as they adhere to the quarantine controls. However, other household pets such as guinea pigs, hamsters, ferrets and caged birds are generally prohibited.
What are the Regulations?
The quarantine period for a dog or a cat entering the country when emigrating to Australia is 190 days. 180 of these days can be completed in the country of origin, but there must be a minimum of 10 day quarantine for any live animal entering the country.
Also any animal that is entering the country must have microchip identification, which must be done before the rabies vaccinations. The only microchips that can be read in Australia are those that meet the ISO 11785 and 11784 standards. For any other type of microchips you must bring your own microchip reader.
After your pet has been implanted with a microchip they will need to receive a new rabies vaccination. This must be a vaccination that has been inactivated and you should obtain certification for the period of validity of the particular vaccinations. Your pet must be at least 90 days old at the time of the first vaccination.
Once your pet has had their rabies vaccination they must receive a rabies neutralizing anti-body titre test, which ensures that the rabies vaccination has provided adequate antibody levels. This must be tested by a facility that has been approved by the Government of Australia. Your vet should send the results to one of the approved labs and call ahead of time to make sure that they are aware of the destination location and the delivery.
There must also be a final vet exam four days before arriving, which must be performed by an accredited vet. An international health certificate must also be issued at this time. It is also strongly recommended for your pet to have been vaccinated for distemper, parvovirus, contagious hepatitis, bordatella, corona virus and other infectious diseases.
If your pet is a cat it should also be vaccinated for feline enteritis, feline calicivirus and feline rhinotracheitis. These vaccinations should take place at least 14 days before the flight, but not more than 11 months beforehand. It is also a good idea to treat your pet for internal parasites before the move – the first treatment should be conducted within 45 days of moving and the second treatment should be done within 5 days of moving.
Helpful Tips
Keep in mind that you will need to file an Import Permit no sooner than 42 days after import.
It is also important to have your vet complete a veterinary health certificate with 72 hours of entry.
If your pet is entering Australia by air it must enter as air cargo via Sydney or Melbourne International Airport.
It is a very long flight, so ask your vet for advice on how you can keep your pet more comfortable during the journey.
The minimum age for a pet entering Australia is 7 months.
There are some dog breeds that are not permitted to enter Australia, such as the Pit Bull Terrier, American Pit Bull, Presa Canario, Japanese Tosa, Fila Brazileiro and Dogo Argentino.
There are a lot of steps and regulations to keep in mind when it comes to bringing your pet to Australia with you. You might want to keep a notebook with a list of all the steps you need to take, so that you can methodically check them off one by one. The process of importing your cat or dog with you when you move to Australia is a long and complicated one, but it is worth it because it means you can bring your furry best friend with you.
For more information on Australia immigration, New Zealand skilled visa regulations and more, contact the Emigration Group.