Airport hotels – yes/no and why
Sometimes I have the… let's call it 'opportunity' to spend some time in a hotel close to an airport. As with all the other hotels I get to visit, there are economy hotels and more luxurious ones. But why would you ever want to choose an AIRPORT hotel and not a city one?
What people in their own minds would willfully choose an airport hotel? After all, these hotels are for crews or for people who must spend a night there because they missed their connection. Or…?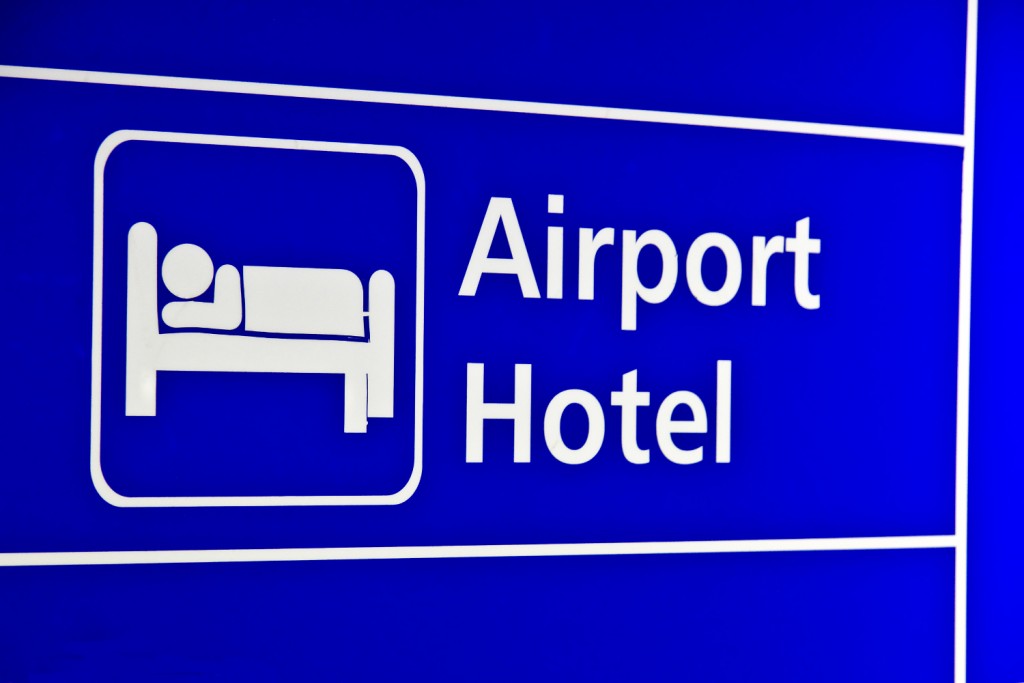 Airport Hotel sign Hong Kong, photo by Ingvar Bjork / Shutterstock
In all fairness, I have chosen airport hotels on a number of occasions. Sometimes I don't like a long journey before the flight. (When you get to know a city well, you tend to rely on public transport – more to the point, the rail-based transit system. Which, for places like Paris, is so much faster than a taxi stuck in the road traffic.) Hence an airport hotel allows me to drop into the terminal right out of my bed – with an obvious brief detour to the restaurant for a nice breakfast. Sometimes – well, ok, MOST OF the times – an airport hotel is cheaper than a central one, by a generous margin. True, you may have to spend some money – and time as well – to get to the center of the city or some other area of interest for you on that journey.
But that's not all. Aviation afficionados will nevertheless enjoy the spotting opportunities – even if the cheaper hotels are significantly far away from the main installations and so the spotting opportunities are more rare. But for the big facilities built literally into the airport (I can think of about 4 Sheratons and a couple of Hiltons that I've seen… or stayed at 🙂 ) the opportunities are wonderful. Just take a high zoom lens, get a seat on the balcony and start shooting! (Be careful though not to scare the officials, even if the binocs available for the people in the control towers allow them to distinguish between a photo camera and a scope rifle… most of the time. 😀 Yeah, me and my guns.)
On the other hand, it's in the middle of nowhere unless you'd like to entertain yourself in the airport. The problem with airports is that they are usually quite expensive – both entertainment and food, if you think about dining in the public area – so perhaps the extra expense incurred by this requirement may cancel the savings brought by a cheaper hotel. And the hotel food ain't coming cheap either, so you definitely need some restaurant somewhere. But this does not necessarily matter for a bookworm and geek like me, who's very happy to sit in his room and either browse le net or read a book. Yup, I'm carrying a truckload of them, since I discovered that an e-book reader is not necessarily a bad thing, especially when you're restricted to your hand luggage only. But about that… in a future post.