A Flavourful Experience: A Mexican Holiday
The best way to experience food and culture is a visit to the buzzing country of Mexico. Mexico is home to some of the world's greatest architecture, sandy beaches, natural parks, and the most delicious and flavorful dishes and feasts. Your holidays in Mexico will definitely be one for story telling because of the great experiences that you'll enjoy when visiting this historical city.
When visiting Mexico, don't be overwhelmed with the many tourist destinations that are available to you. Remember that when you are travelling you are using a portioned budget, thus it is advisable that you plan the places to go to and the hotels you are going to stay in.
Mexico offers different tourist destination. Here are some of the best places to visit when exploring holidays in Mexico.
Acapulco
This glamorous island is made famous by Hollywood stars during the 1950s. Even today, Acapulco has not lost its glamour and lure as one of the best beaches in the world. When visiting Acapulco, you'll be amazed by watching graceful cliff divers take the plunge to the beautiful blue waters of Acapulco.
Guanajuato
This pre-colonial place is located in the mountains of the Sierra de Guanajuato. When visiting this colonial city, you'll be amazed of the old architecture of pre-modern Mexico. There are beautiful and amazing architectural designs of haciendas, churches and colonial buildings that can be seen around the city. Since the main traffic is underground, touring Guanajuato by feet can be an excellent experience.
Dias des los Muertos, Oaxaca
The festival on the Day of the Dead attracts many tourists in the City of Oaxaca. This festival is known to be practiced by ancient civilizations like the Zapotec and the Aztecs. This colorful yet eerie festival is a testament of the faith of the Mexicans to the afterlife and a manifestation of their reverie for the passing of a loved one.
Teotihuacan ruins
These ruins were built by the 2nd century civilization that lived in Mexico. During its time, it was considered a temple and a buzzing metropolis; by the architecture of these ruins alone, you'll know that the civilization who built this stone ruins are proud and dedicated. Even after the existence of the Teotihuacan Empire, this magnificent ruin was used by the Aztecs.
Chichen Itza
This is perhaps Mexico's most visited tourist spot. This has also been seen in many Hollywood movies depicting an old civilization that is proud and dedicated to its beliefs. There are temples in Chichen Itza that every tourist must admire; the temple pyramid of El Castillo and the Great Ballcourt of El Caracol. These structures within the Chichen Itza pyramid are the highlights of your visit to this place.
What is a vacation without food? Mexico is home to the best and inspiring recipes around the globe. Roaming the local streets of Mexico will be a delight because there are great street foods and local delicacies that will surely flame up your taste buds. Delicious snacks like elotes, tacos and tamales are very popular street food in Mexico. Mexico is also known for its enchiladas, mole sauce and quesadillas. What best way to savor a true Mexican cuisine by eating them in Mexico.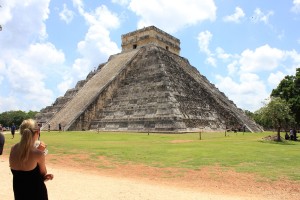 Final Destination
Travelling can be a wonderful and exciting experience. However, to get the most out of your travels, it is important that safety and practicality should be the primary consideration.
Disclaimer: this post was sponsored by Travelbag.