The Greek islands are always a good option if you're looking for an affordable holiday destination with guaranteed good weather and beautiful scenery. Considering there are 227 inhabited Greek islands, holiday makers are spoilt for choice when choosing where to visit. To help you make up your mind, here are five of the best.
Mykonos
Best for: nightlife and shopping.
Mykonos is arguably the most vibrant of the Greek islands, and attracts a lot of young people, having a similar feel to Ibiza back in its good days. Expect to holiday amongst the young and fashionable, and get saving your spending money as Mykonos is a notoriously expensive place to holiday. It's by no means trashy though, so banish images of the likes of Kavos and Laganas from your imagination. Mykonos is a tasteful, picturesque and vibrant island. To get more of a feel for what the island has to offer, visit the TripAdvisor page.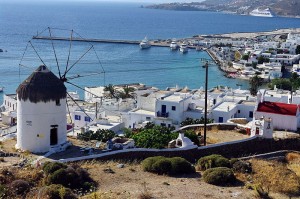 Photo author: Bgabel
Crete
Best for: walking.
If you like to venture a little further than the poolside on your holiday, then Crete is a good option. Like many Greek islands, Crete's scenery is beautiful and full of various treks and hikes. The Samia Gorge hike is 16km long and is perfect for those who like to get some exercise on their holiday, as well as witness spectacular views. For affordable trips to Crete, check out AirHolidays' deals at www.airholidays.co.uk.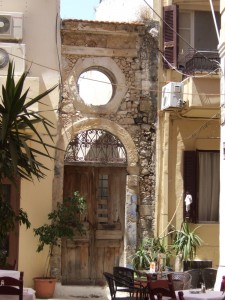 Photo source
Santorini
Best for: stunning views.
If you only had the option to visit one Greek island in your lifetime, many would recommend that Santorini should be the one. In the late bronze age (1500BC to be exact), a volcano named Thera erupted on the island, creating the black and red volcanic sand that now forms the beaches of Santorini. Famed for its stunning views and beautiful sunsets, Santorini has a reputation for being the most romantic of all the Greek islands and is perfect for couples.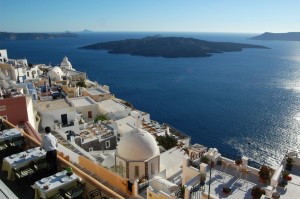 Photo source
Kefalonia
Best for: beaches.
Best known as the setting of Louis De Berniere's novel Captain Corelli's Mandolin, Kefalonia boasts spectacular scenery and beautiful beaches. If you want to leave your chosen Greek island feeling fantastically relaxed and refreshed, then Kefalonia could be the one for you. If you ever visit the island, then a trip to Myrtos beach should be top of your to-do list. Dubbed the tenth best beach in the world, the white sands and tropical blue waters are well worth a visit.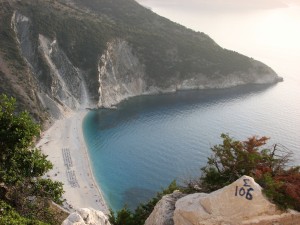 Photo source