A day trip, bear encounter and some adventures
As you know already, I have a small baby. Eric has to be baptized. OK, maybe it doesn't have to, but I want to baptize him. Ever since I found out I was pregnant, I had an idea: to baptize my son in the same church – actually a very beautiful monastery – in which my husband and I got married.
This year Andrei and I, we are celebrating 6 year since we know each other and in September, 6 years from our wedding. We got married on 24th September, in a Saturday (on 23rd to the city hall, on 24th at the church). This year, 24th is also on Saturday – and I thought it would be nice to baptize our son in the same place, in the same day.
My husband agreed, months passed by, Eric was born and yesterday we thought to go to this monastery and make the necessary arrangements.
The monastery is located in Sinaia – a town on Valea Prahovei, in the mountains. A 2 hours drive (maybe towards 3 in a busy day) is necessary.
We waited to feed the baby and then leave. Thus, we left home round 12 pm. We stopped to buy an adapter for the car for the heating of the child's bottle.
Finally – on the road.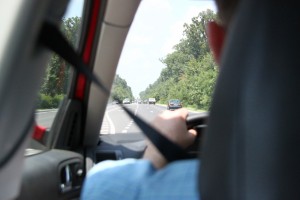 The landscapes were simply beautiful. More than that, I saw some cornfields and I got such a big desire to eat some boiled corn…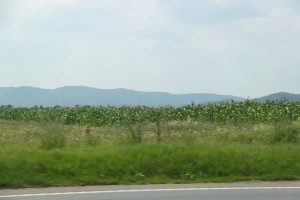 Harvest is in full swing; sunflower fields are coloring everything in yellow.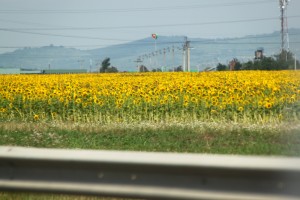 As we approached the mountains the landscape got more and more specific – see the photo below and yes, I know, it's inclined.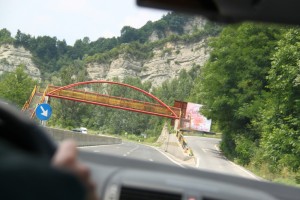 We drove also near a train – when I opened the window to hear the specific sound I managed to lose a support for a protection against the sun for the car's window. Not good, but also not very-very bad.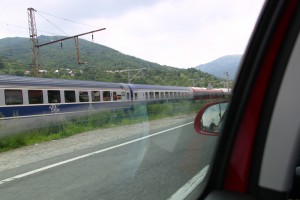 But, finally, we arrived at the monastery.
I was happy.
Happy until…
… until I realized that when I ate an ice cream (at the beginning of the trip, when we stop for petrol) I dropped a piece of chocolate glaze on the chair. You can imagine the result, right? Dirty white blouse and pants.
The only good thing was that the stain was not so big nor so obvious – for I didn't had something else to wear.
So, this was the second bad thing.
When entering the monastery surprise…
I found out that there is a fee for visiting it. OK, no problem – though it was strange for in the past there was free entrance.
And then it hit us: the monastery cannot perform anymore baptizes (or wedding or other such ceremonies). All due to an order of the Patriarchy.  A stupid order that says such ceremonies can be performed only by parochial churches.
So: beautiful monastery, great synchronization and all for nothing.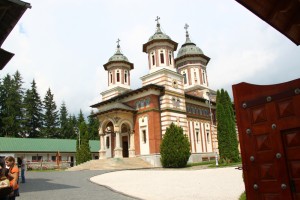 We were disappointed. But we decided to not let the news ruin our day. Andrei proposed to go up to 1400 m – by car. I said yes in an instance. So again on the road – Sinaia, 1400 m, here we come. And our son is for the first time at the mountains, breathing the special air.
On the road – another surprise.
For the first time in my life, I see a bear. My husband tells me I should take pictures. Guess what, the camera was already in my hand!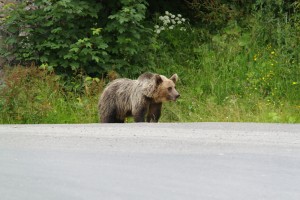 A scared bear – looking for something to eat, going back in the woods. And we – going higher and higher!
And now, we arrived.
Fresh air1
From the over 35 degrees in Bucharest, here we were: 1400 m – 17 degrees C.
Eric was sleeping.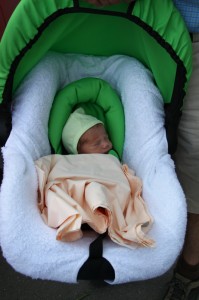 I also took some other pictures.
Here's Sinaia through some trees!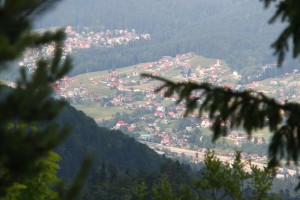 But it was time to get back in Bucharest.
On the road back, we've encountered the bear the second time. Look at him. he's so cute!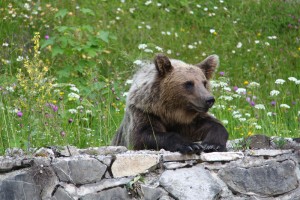 We've also had a problem with my window – that didn't want to close. And the car is new (7 months). Andrei managed to sort things out, however (luckily for us).
We made a stop in Ploiesti to see a friend – here's a photo from a parking place – Andrei and I and Eric in his chair in the car.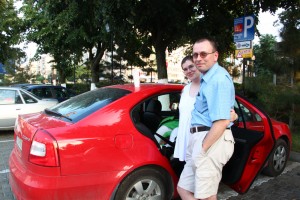 I wonder now: it was 13th… Should I be superstitious?
One in all it was a good day!