2 days in Saint Petersburg, Russia: Your perfect St. Petersburg itinerary
Planning a trip to Saint Petersburg, Russia and wondering what are the best things to do in St. Petersburg on a short trip? Here is the perfect St. Petersburg itinerary for you with the best places to visit in Sankt Petersburg in 2 days.
Use this 2-day St Petersburg itinerary when planning your visit to St. Petersburg and discover where to go and what to do: from the best museums to the best viewpoints, from the stunning churches to the landmarks in St. Petersburg, everything is included. Find out how to spend 2 days in Saint Petersburg Rusia from this itinerary by Dorota from Born Globals.
You can also use this itinerary for Saint Petersburg for two days to plan longer trips – as you can allow yourself more time exploring various attractions in St. Petersburg.
2 days in Saint Petersburg, Russia: your St. Petersburg itinerary
Saint Petersburg is the second-largest city in Russia and is one of the most attractive places in the country. Peter the Great decided to have the city constructed in order to gain a convenient port on the Baltic Sea to trade with Europe. He hired the best architects to design the city and the results are visible until today.
It is a huge city and you can spend well over a week there without getting bored. For this, check my full list of things to do in Saint Petersburg, Russia. But if you only have two days to see it, this itinerary will allow you to make the most out of your time.
2 days in Saint Petersburg, Russia
Day 1
Church of Savior on Blood
Wondering what to do in Saint Petersburg? Start your first day of this Saint Petersburg: 2 day itinerary by arriving at Nevsky Prospect metro station on the blue line.
When you get out of the metro, you will immediately be amazed by one of the most beautiful buildings in the city – an orthodox Church of Savior on Spilled Blood. You can't miss it during your 2 days in Saint Petersburg.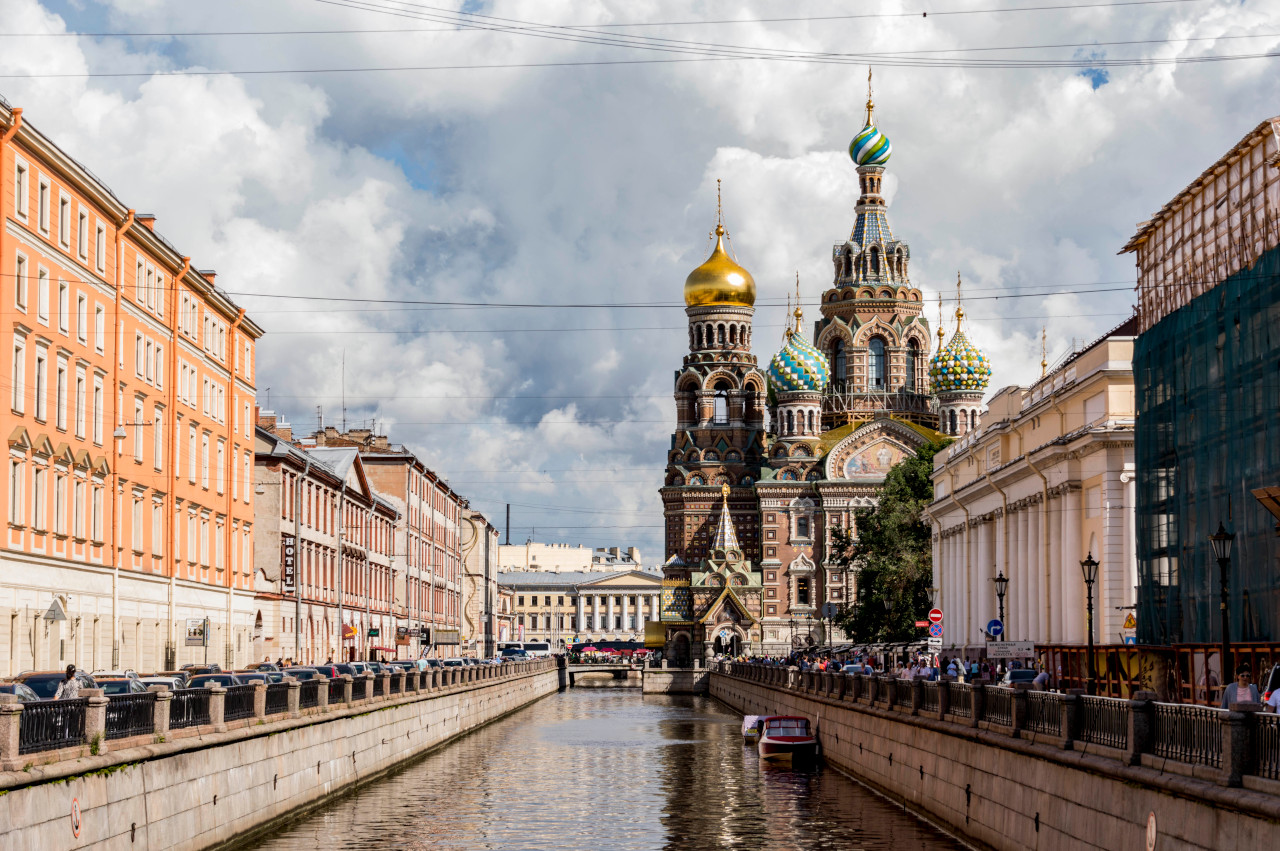 Tsar Alexander III wanted to have the church built in the exact spot where his father got killed. The architecture of the church is inspired by medieval Russian style, different from baroque and neoclassical buildings around.
Inside it is covered with mosaics and I assure you, it is a must-see of the city and you can't miss it while organizing your trip to Saint Petersburg.
The Field of Mars
You can stroll towards the Field of Mars from the Church of Savior on Blood. It is a popular place for the locals to relax in the summer, sunbathe, make picnics and enjoy their time, which makes it one of the best places to visit in Saint Petersburg.
In the middle of the Field you will see an eternal flame to commemorate the people who died during the Bolshevik revolution.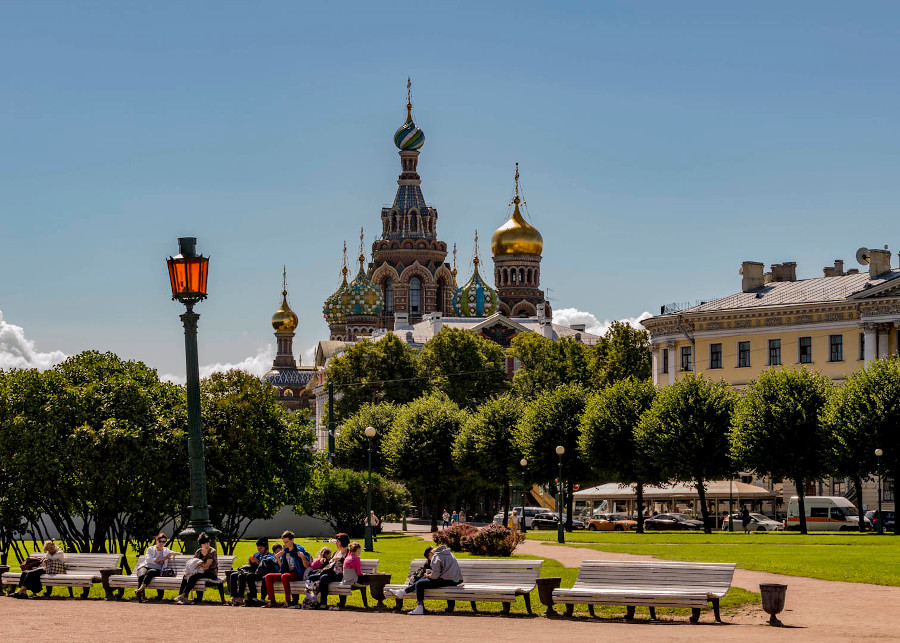 Peter and Paul Fortress
Next on this itinerary for St. Petersburg is Peter and Paul Fortress. This is the first building tsar Peter the Great ordered to build in Saint Petersburg. You will find it on the last upstream island of the Neva delta – Hare Island. Even though it is built as a fortress, it never actually protected the city.
Nowadays, you will find many museums and points of interest there so make sure to include it in your 2 days in Saint Petersburg itinerary.
If you're interested in history don't miss the interior of Saints Peter and Paul Cathedral where you will find tombs of Russian tsars. You can also climb up the fortress walls, visit the Museum of The History of Saint Petersburg and many more. You can also relax on the beach outside of the fortress.
When you enter or exit the island by a bridge, don't miss the little hare standing on a log in the water. You need to take a coin and throw it at him. If the coin stays between his legs, it brings you luck. I tried countless times but I never managed… 😉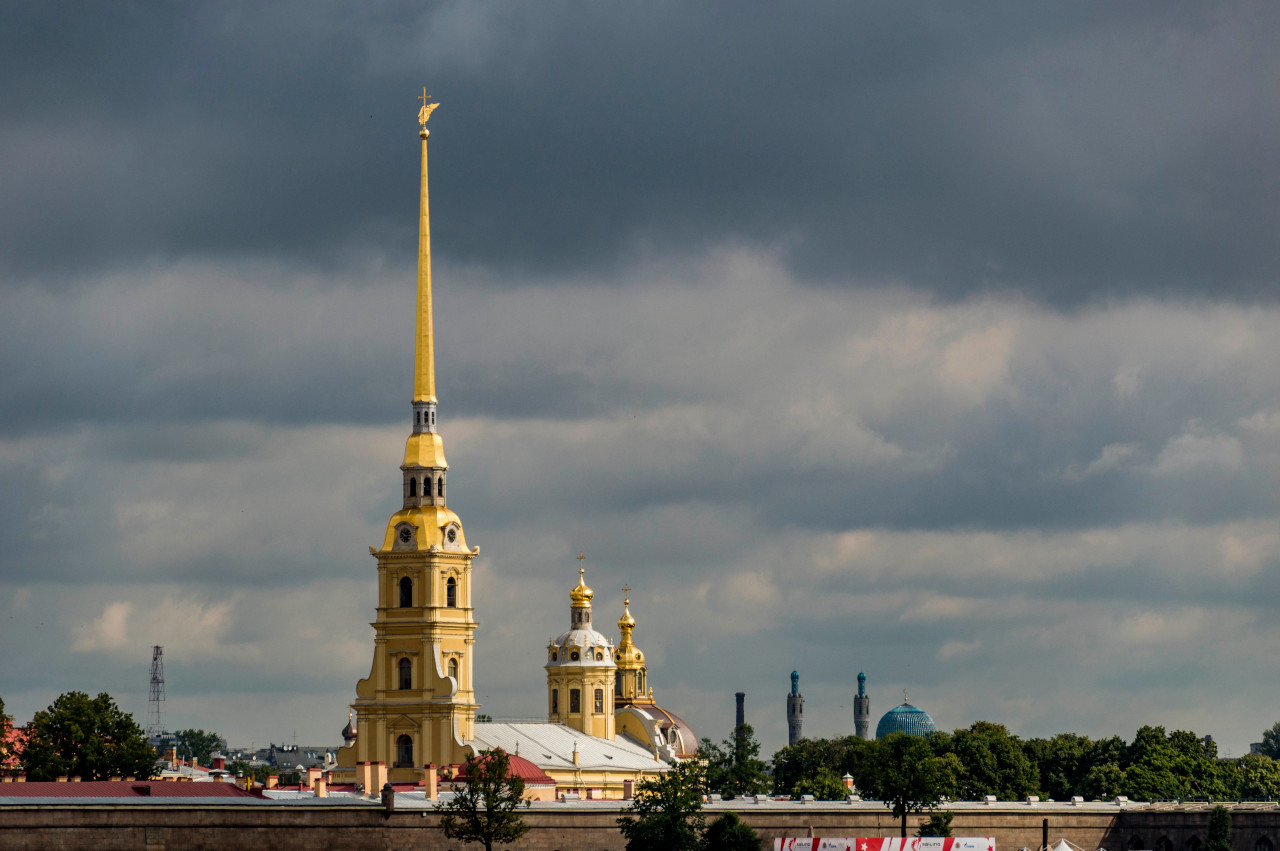 Mosque in Saint Petersburg
Close to the fortress, you will find an impressive mosque of Saint Petersburg with its outstanding turquoise dome and portals. It is well worth a visit. If possible, go inside the mosque too. It's one of the best things to see in St. Petersburg.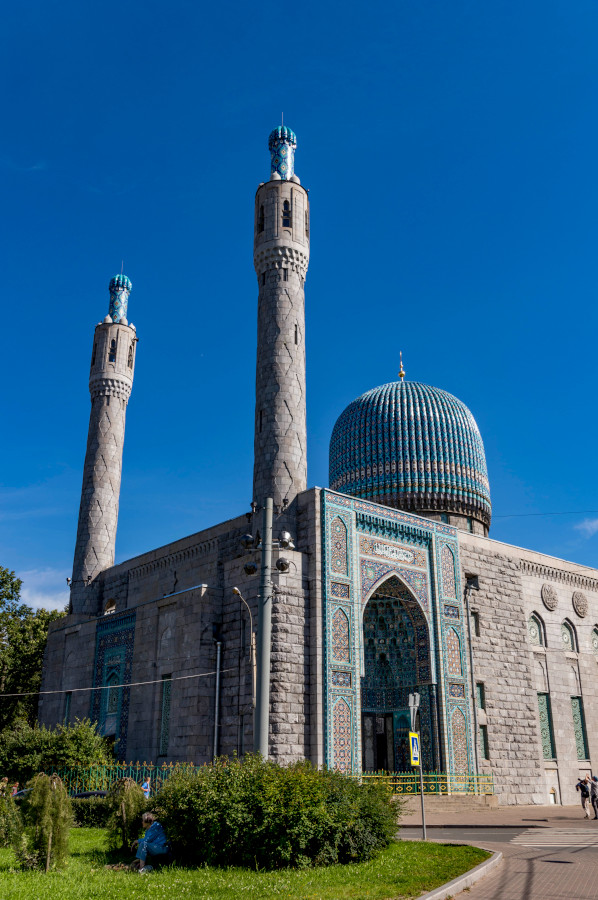 Aurora
Aurora, a Russian cruiser which gave a signal to start the Bolsheviks' assault on Winter Palace. Currently, you can go on deck and visit a museum.
You can also just see Aurora from the shore as a monument and an important part of Russian history. As you explore Saint Petersburg in 2 days, make sure you go here too.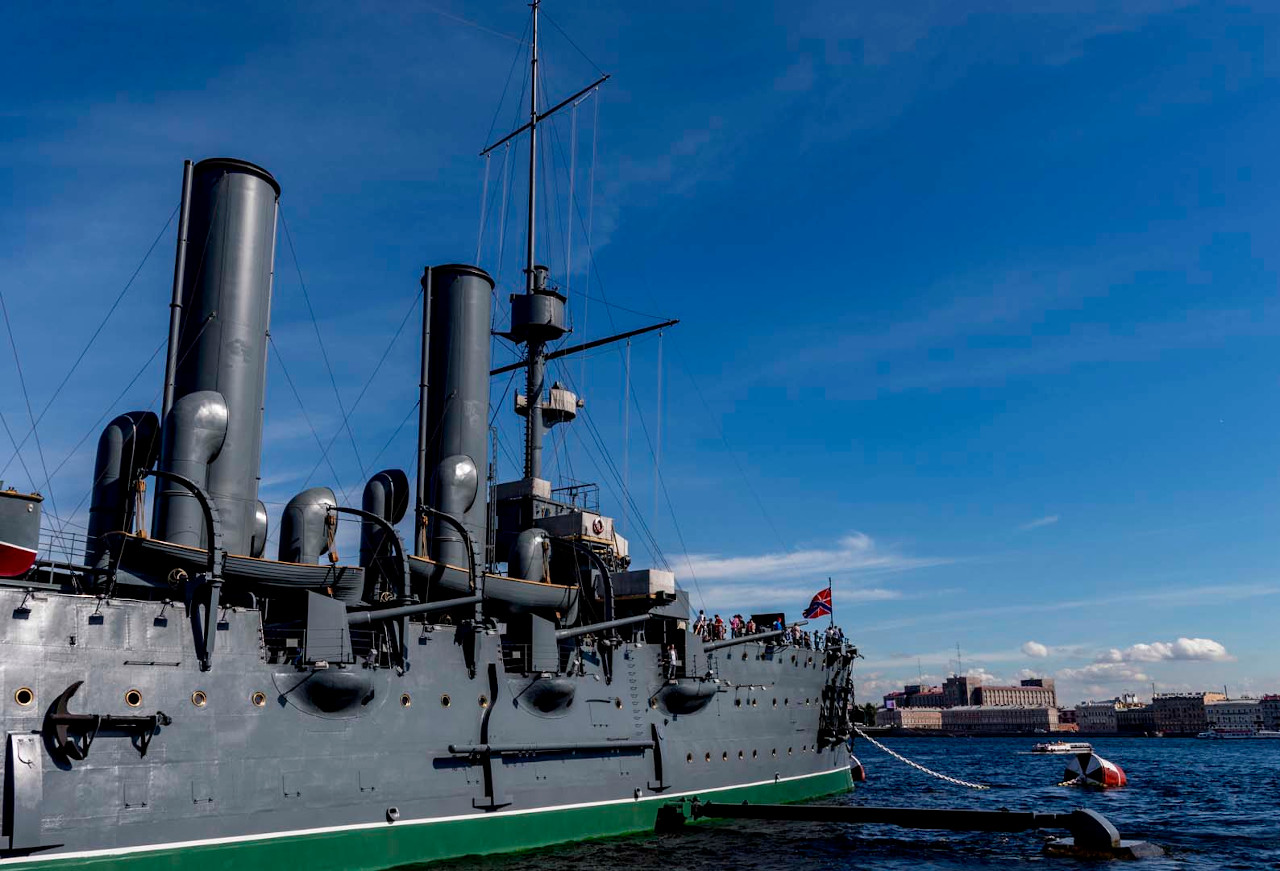 Palace Square
Take a metro from Gor'kovskaya back to Nevsky Prospect station and walk towards the heart of the city – one of the most popular touristic places in Saint Petersburg. Palace square takes its name from Winter Palace where today you can find the Hermitage museum.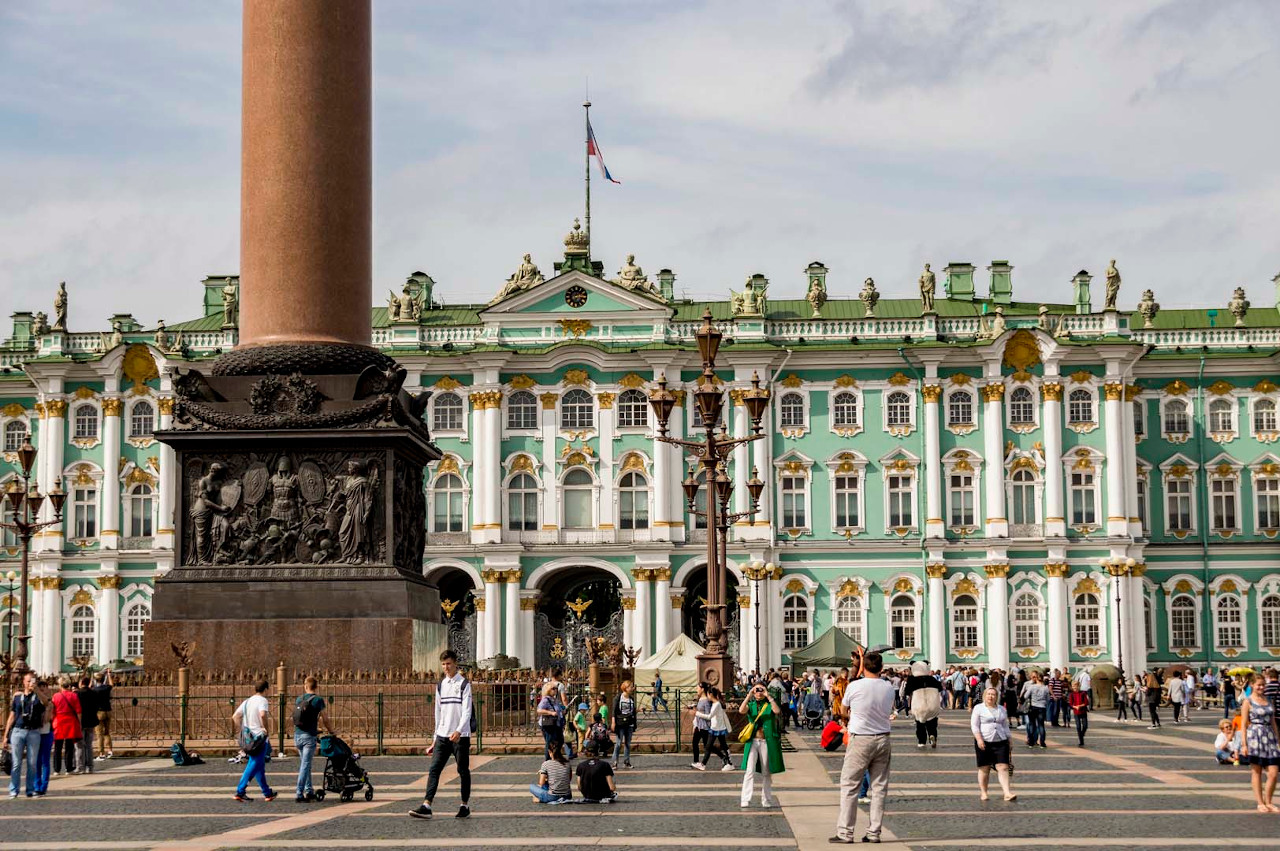 In the center of the square, you will see Alexander Column built after Russia won over Napoleon's France. On top of it, an angel smashes a snake with a cross – a symbol of triumph over evil.
The Hermitage museum is amazing and impressive not only because of famous pieces of art gathered there but also because of outstanding interiors.
However, unless you're a big fan of art or architecture, it is better to skip the museum if you have only two days in Saint Petersburg. You need around 4 hours to see it and you end up exhausted. I recommend to come back to see it another time 🙂
If you're on a budget, you can eat in one of Stolovaya No 1 (Столовая No1) – a chain of milk bars. Here's a list of all Stolovayas in St. Petersburg. The decorations are very basic, you can't pay by card, there's self-service and the staff barely speaks English – but it is cheap and tasty. A true local experience 🙂
If you look for something fancier I recommend Katyusha restaurant.  The place is cozy and the food is amazing, they have a huge variety of local cuisine on the menu.
For the evening of the first day of this 2-day itinerary for St. Petersburg, plan a boat tour along rivers and canals of the city. It is particularly beautiful around sunset time. If you are there in the summer, you can also take a night tour allowing you to see opening bridges.
Day 2
Start your day from the same metro station as the day before – Nevsky Prospect on the blue line.
Kazan Cathedral
Start your second day of this 2-day Saint Petersburg itinerary with a quick visit to Kazan Cathedral, located right across the street from Church of Savior on Blood. It is an impressive building inspired by St. Peter's Basilica in the Vatican.
Inside you can see an icon Our Lady of Kazan, a special symbol for the Russian orthodox church.
After the huge fire in Kazan in the XVIth century, a little girl saw the Virgin Mary who led her to a place where the icon was buried under a destroyed house.
Even though we are not sure if the icon displayed in Kazan Cathedral is an original or a copy – people truly worship it and you can see and feel the importance of the place for the locals.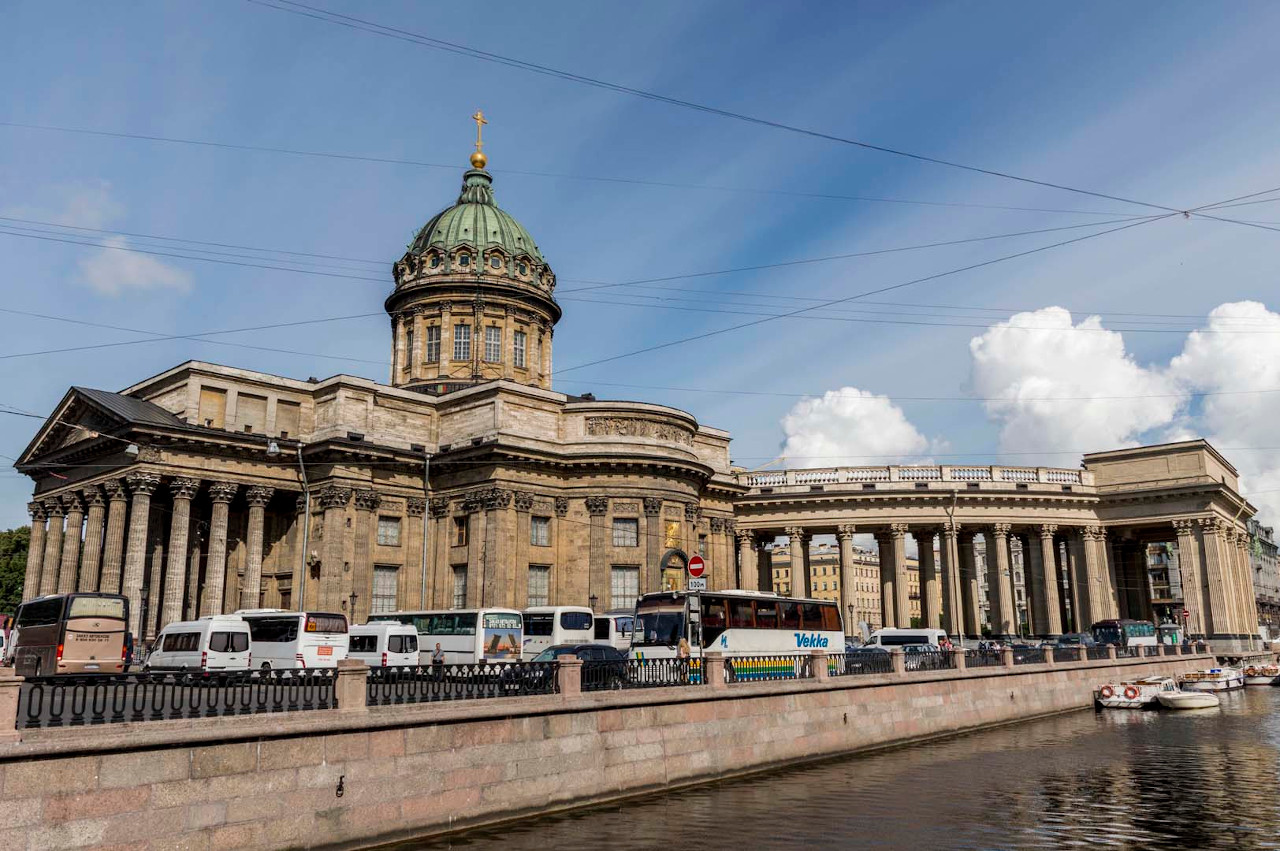 Saint Isaac's Cathedral
The biggest and most impressive cathedral in Saint Petersburg and one of the best things to do in St Petersburg in two days. The dome of Saint Isaac's Cathedral is covered with a layer of pure gold.
You can visit the Cathedral inside and climb up to the colonnade under the dome. Do it and you'll get one of the best views during your two days in Saint Petersburg!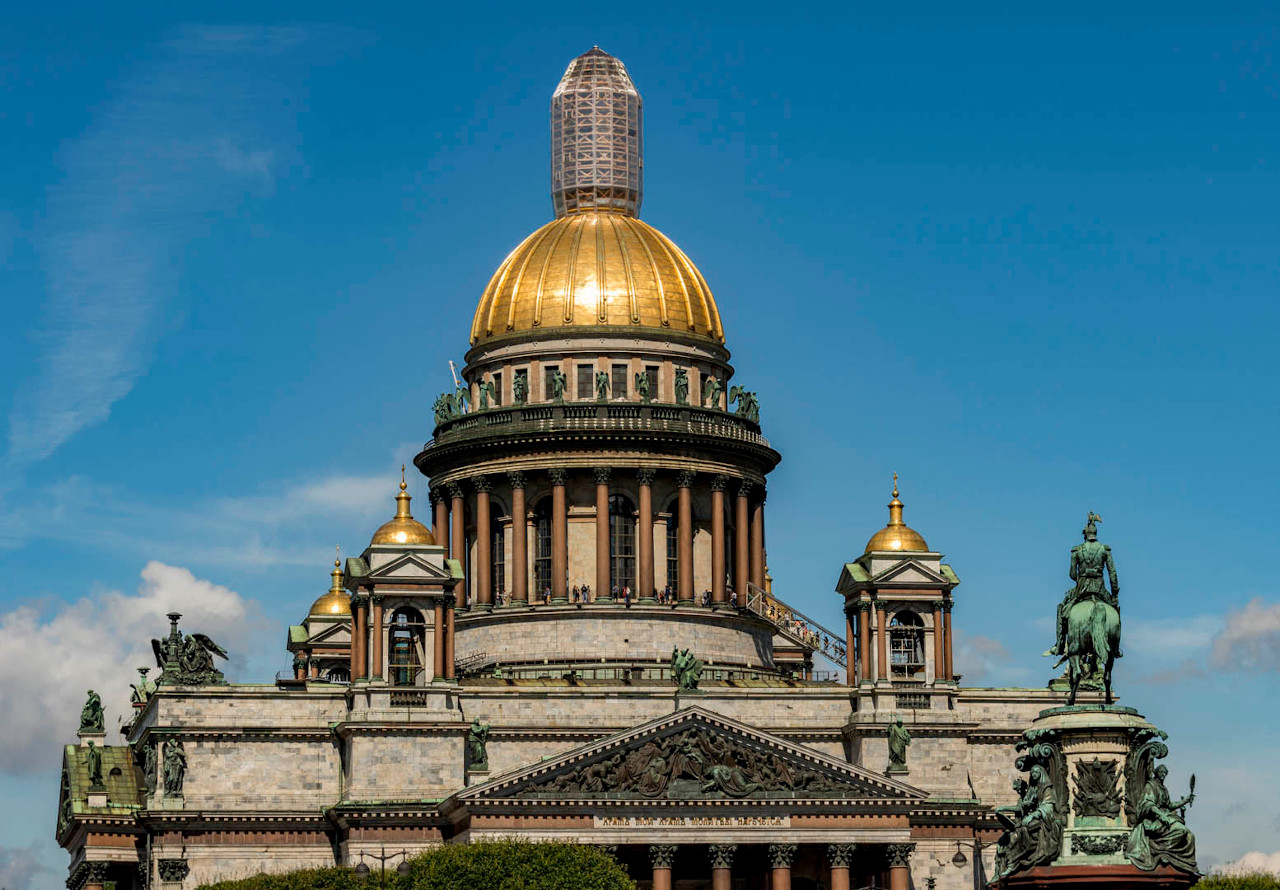 The Bronze Horseman
Still wondering what to do in Sankt Petersburg in 2 days? The Bronze Horseman is located behind Saint Isaac's Cathedral and it is a monument offered to Peter I by Catherine II.
According to local legends, as long as the Bronze Horseman stands in the city unharmed, an enemy can't conquer it. Until now the legend is true.
During World War II inhabitants of Saint Petersburg protected the monument by wooden structures and bags of sand so that the bombs can't destroy it. They didn't – and the city was never conquered.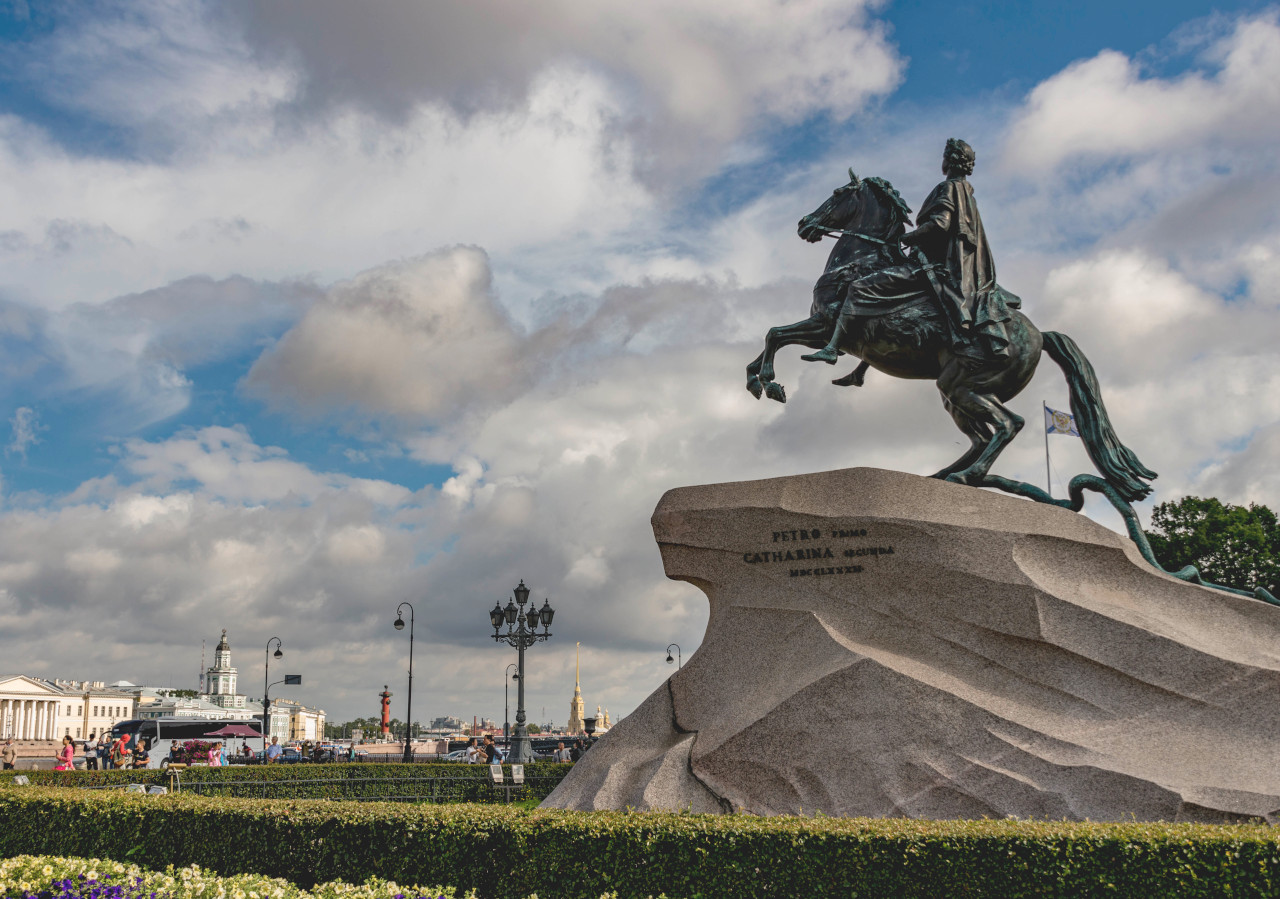 Spit of Vasilyevsky Island
The eastern end of Vasilyevsky Island is a perfect viewpoint at Peter and Paul Fortress, Neva River, Winter Palace and the dome of St. Isaac's Cathedral. Make sure you get here on your 2 days in Saint Petersburg trip.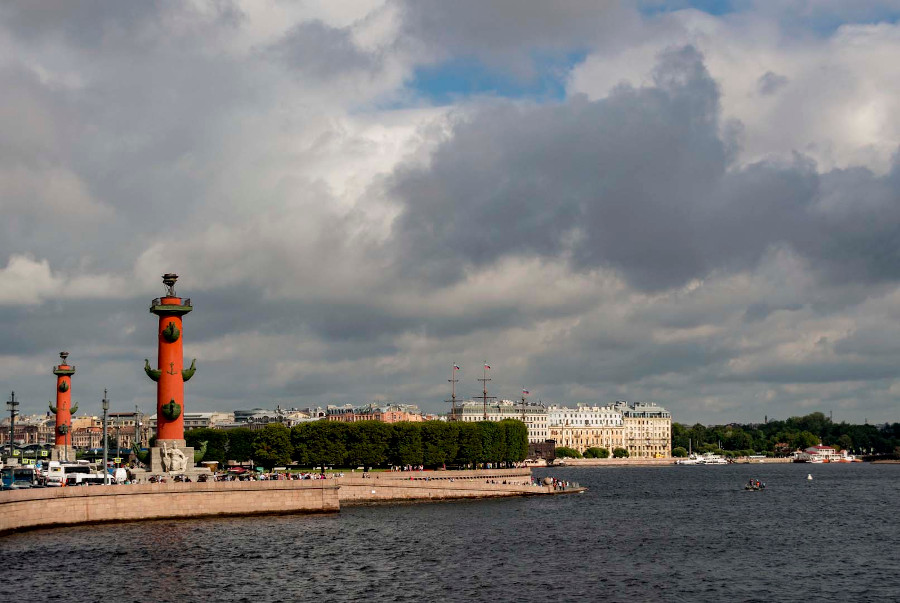 Walk along Nevsky Prospect to Vosstaniya Square
From the Spit of Vasilyevsky Island, you can take a long walk along Nevsky Prospect towards Vosstaniya Square. It is the main and the most famous street in Saint Petersburg.
It's extremely busy almost all day long – however, there are a few points of interest you shouldn't miss. You can stop for lunch in Marketplace, located on Nevsky Prospect on the second day of your trip to Saint Petersburg.
Except for Kazan Cathedral and the Church of Savior on Blood you know already, pay attention to the beautiful building of Singer House, also known as House of Books (Dom Knigi).
As you walk further along the street and continue your Saint Petersburg trip, don't miss Gostiny Dvor, the first shopping center in Saint Petersburg and one of the first shopping arcades in the world. After that, you will pass Alexander Theatre and the monument of Catherine the Great.
Then you will cross Anichkov Bridge – the oldest bridge through Fontanka river decorated with four sculptures of Horse Tamers.
Then continue towards Vosstaniya Square, the huge transportation and traffic hub of the city where you will find a Hero-City obelisk commemorating the victory of the Red Army over the Nazis.
Smolny Convent
One of my favorite sacral buildings in Saint Petersburg is Smolny Convent. To get there you can either take a metro from Vosstaniya Square to Chernyshevskaya station and take a 30 minutes' walk from there – or you can hop on one of marshrutkas or buses heading that way. It's one of the tourist attractions in Saint Petersburg you have to include on your 2-day St. Petersburg itinerary.
The convent's name comes from the Russian word "smola" – pitch. At the time of Peter the Great they produced pitch where Smolny Convent is today.
The tsar's daughter wanted to have it built but actually, the convent worked only for four years. The building served as a warehouse, a museum, and a concert hall before it was converted back to its functions as a church in 2016.
It was still under renovation when I was there in 2017 and there weren't many decorations inside – but it has its charm after all other richly decorated churches in the city. You can also climb the viewing platform on one of Smolny's towers.
If you feel like spending your evening in a local bar or restaurant, I highly recommend you to visit Golitsyn Loft (Голицын Лофт) on Fontanka 20 (набережная реки Фонтанки 20).
It is a yard of an old building – nothing special at the first glance, but when you enter, suddenly you're surrounded with bars of different kinds with beer, food and shisha, and a great atmosphere. I've never seen such a place before and I would never discover it if my local friend didn't recommend it to me.
This was a guide to two days in Saint Petersburg. If want to spend more time in the city, check the full guide to Saint Petersburg with a printable e-book to download on my blog. It is an outstanding city, one of the most beautiful in Europe. Make the most of your trip and enjoy your time! 🙂
About the author
My name is Dorota, I live in Poland. Even though I have always been passionate about travelling, I discovered a whole new world when I went to Russia for 6 weeks volunteering program. I loved it so much that I decided to volunteer on every continent and promote this idea on my blog. I slowly make the dream come true – and I want to help others believe they can do it too! Dorota shares her travels on Born Globals.